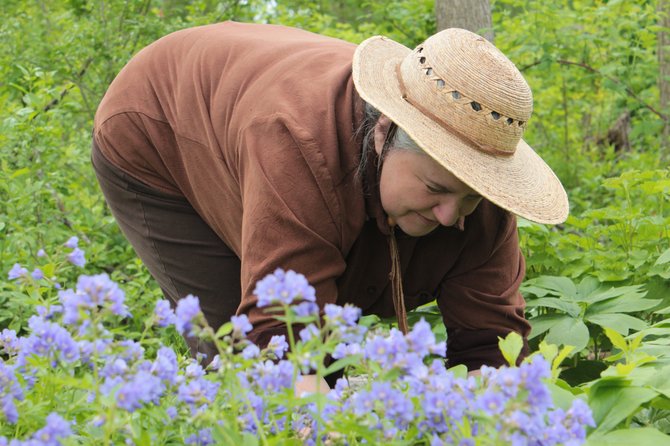 Plattsburgh — The empty lot behind Jane Desotelle's mother's house on Riley Avenue looked like an overgrown wasteland.
But where some saw a tangled mess of foliage, Desotelle saw life.
The plot needed to be tamed a little, so about two years ago she began working her way through the seemingly impenetrable mess, and as the log-lined paths became defined, the Plattsburgh Botanical Sanctuary also began to take shape.
"It's important to note that it's a sanctuary, not a garden. It isn't intended to look pretty; there's no real design to it," Desotelle said. "The two main purposes are to educate people and to protect plants, especially those that are endangered or on a watch list."
There are several at-risk plant species growing in the sanctuary, including trillium, jack-in-the-pulpit and blue cohosh, the roots of which are harvested commercially for a wide range of medicinal purposes.
Desotelle, who sells all manner of wild and locally picked fruits, vegetables and greens under the name Underwood Herbs, has also discovered an abundance of useful plants thriving on the property.
She discovered a morel mushroom growing beneath some dense undergrowth, and a large, healthy rhubarb plant amidst a tangle of berry bushes.
There are also dandelions throughout the sanctuary, a common plant, often dismissed as a prolific weed by frustrated lawn manicurists, that has several uses.
Desotelle makes dandelion jelly from the flowers, uses the leaves as a salad green, roasts the roots and adds them to coffee and also makes tea from the roots.
"Dandelion root is beneficial to people in many ways. It helps regulate the blood sugar, and is good for the liver and gall bladder," Desotelle said. "Hopefully when people are done with a tour that I give them, they'll think twice about spraying their lawns."
Dandelions aren't the only plants common to our region whose usefulness is often overlooked.
(Continued on Next Page)
Prev Next
Vote on this Story by clicking on the Icon