Let Us Know
To submit an item for publication go online to www.the-burgh.com or drop us an e-mail at
<
p>northerncalenda...
>
For additional information, call Katherine Clark at 873-6368 ext 208.
LPCA holds showing of "Koch"
LAKE PLACID — The Lake Placid Center for the Arts Film to present showing of Series features Koch, a film by Neil Barsky,17 Algonquin Drive, at 7:30 p.m. on June 21.
Koch, a film by Neil Barsky about Former Mayor Ed Koch, the quintessential New Yorker. Still ferocious, charismatic, and hilariously blunt, the now 88-year-old Koch who ruled New York City rom 1978 to 1989—a down-and-dirty decade of grit, graffiti, near-bankruptcy and rampant crime. Koch, is an intimate and revealing portrait of this intensely private man, his legacy as a political titan, and the town he helped transform.
Tickets are $6 and available at the door. For more information call the Lake Placid Center for the Arts at 523-2512 or visit www.LakePlacidArts.org
Spring Street and others to perform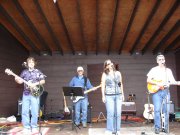 LAKE PLACID — Spring Street, Loud and Stupid, and Y Not Blue will perform at Smoke Signals, 2489 Main Street, 8 p.m.
Opener Dana Barney will play classical guitar for the first portion of the show and Spring Street will bring their unique mix of rock, country, bluegrass, blues and strong vocal harmonies to the stage. Loud and Stupid and Y Not Blue will follow Spring Street on the Smoke Signals Stage.
The Adirondack-based band, Spring Street, serves up vocals over an instrumental section to get the audience moving at every show. Lead Vocalist Val Rogers, guitarist, mandolin player, and lead/back-up vocalist Bill Billerman, bass player Mick Changelo, and guitarist and back-up vocalist Ed Schaum.
The band covers an explosive mix old rock classic to today's hit music.
For more information about the band, visit their website at www.spring-street-band.com.
(Continued on Next Page)
Prev Next
Vote on this Story by clicking on the Icon