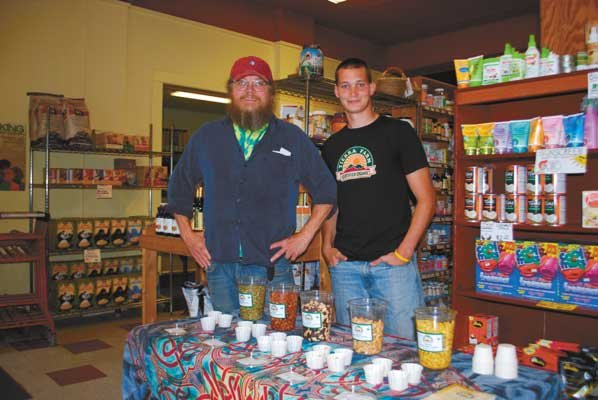 FIRST NIGHT wine tasters, KATHY & KEVIN DOWNS and PATTI & RICH HOLCOMBE were enjoying their longtime friendship with a wine tasting and dinner close by.
We also found the FIRST WEEKEND Committee (an outcome of V2A, Vision to Action) meeting to discuss the success of June's inaugural weekend, with exciting plans for the upcoming summer events. TIM McCORMICK, LEIGH & TIM SIMONETTI, SHAWNA ARMSTRONG, LOWELL WURSTER AND COLIN READ were telling us to expect bigger and better! Plan to come the weekend of July 5th! The Transportation Museum and Children's Imaginarium are participating and will have many family centered activities. Live music can be heard at many venues with styles for all tastes, we may even have a show by The Cumberland Bay Barbershoppers! The Lumber Jills, Plattsburgh's Premier Roller Derby Team, will be showing off their amazing skating skills.
The last piece needed to make First Weekends an exciting gathering space is an agreement from the City Council to close down City Hall Place and Trinity Park to traffic. Join this hard working committee at the City Council meeting on June 20th to voice your support!
The weather hasn't dampened the spirits of some committees, friends and small business owners who stopped in to see us at FREE ADVICE NIGHT. In our optimism, we'd like to say that the forecast looks great for the rest of the summer!
Vote on this Story by clicking on the Icon