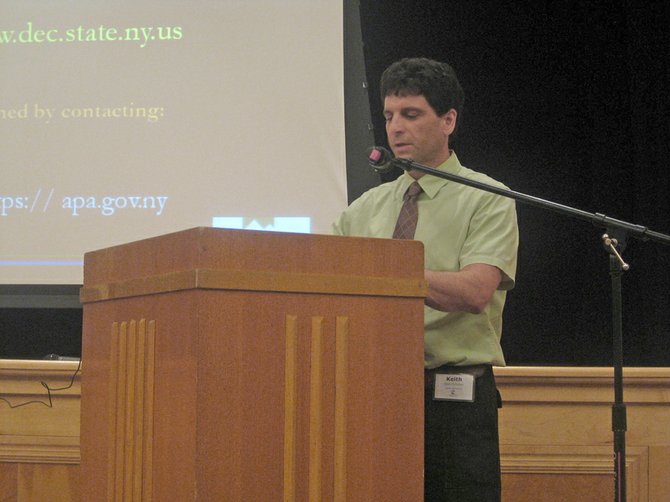 continued — Alternative 3A would incorporate Wild Forest, Canoe, and Wilderness areas. Alternative 3B is similar, but with significantly less Wilderness.

Alternative 4A splits the land between Wilderness and Wild Forest. Alternative 4B does the same, but with an added Special Management classification that could restrict access to the Wild Forest slightly more than would be normal.
There were 49 volunteer speakers at the hearing. An overwhelming majority of them favored a Wild Forest classification for most of the lands in question. The buzzwords for the evening were "survival" and "access." Many were worried about the economic viability of the area and felt that Wild Forests, which provide the most recreational options, would bring an influx of tourists and summer residents to the surrounding towns.
Newcomb Town Supervisor George Canon expressed hope that his town could become a "major destination and economic benefit" if the state went that route.
Randy Douglas, chairman of the Essex County Board of Supervisors, advocated for a Wild Forest accessible to the "young, disabled, and young at heart." Wild Forests allow motorized vehicles and mountain bikes under certain circumstances, while Primitive, Canoe, and Wilderness areas either forbid or severely restrict them.
With a network of roads already in place in the former Finch Pruyn land, many saw no reason why they should not be utilized further. This would make accessibility easier for people of all ages and ability types. The elderly, disabled, and others with limited mobility would find it impossible to enjoy the land if it had a Wilderness classification.
Public hearings were also held June 12 at APA Headquarters in Ray Brook, Monday, June 17 in Minerva and Wednesday, June 19 at the Downtown Conference Center at Pace University in Manhattan.
There are four more public hearings planned.
•Tuesday, June 25: 6 p.m., Indian Lake Central School, 6345 NYS Route 30, Indian Lake
Vote on this Story by clicking on the Icon