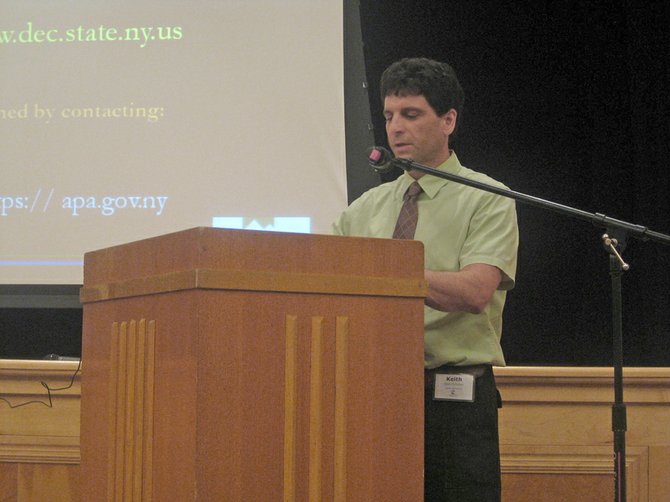 Newcomb — Representatives of the Adirondack Park Agency (APA) held their third public hearing on the classification of former Finch Pruyn lands on Monday, June 17, in the Newcomb Central School auditorium.
They presented seven different classification options, which the audience was allowed to give feedback on over the course of the evening.
The areas in question, which New York state recently purchased, are located within the towns of Minerva, Newcomb, and Indian Lake. They include the Essex Chain Lakes (17,320 acres), the Indian River (925 acres), OK Slip Falls (2,780 acres), and Open Space Conservancy Tract (160 acres). The surrounding areas of the Vanderwhacker Mountain Wild Forest, Blue Mountain Wild Forest, and Hudson Gorge Primitive Area are also up for reclassification. APA officials were clear they has no classification preference, and is relying heavily on public opinion in forming its decision.
There are seven classifications possible for Adirondack land; Wilderness, Primitive, Canoe, Wild Forest, State Administrative, Historic, and Intensive Use. Of those seven, only the first four are being considered. Exact definitions of each are available in the Adirondack State Land Master Plan, which is available for free on the APA's website. For the sake of brevity, the differences between the four are how much influence man as already had on the land, and what uses of the land are most appropriate for its conservation. Wilderness is the most restrictive classification, and Intensive Use is the most liberal.
Under all plans, the Hudson Gorge Primitive Area will be reclassified as Wilderness.
Alternative 1A would designate most of the land as Wilderness, with a small portion of Wild Forest on the western side of the Essex Chain Lakes and Indian River tracts. Alternative 1B would designate all the land as Wilderness.
Alternative 2 designates most of the land as Primitive, with some Wilderness and Wild Forest areas.
(Continued on Next Page)
Prev Next
Vote on this Story by clicking on the Icon