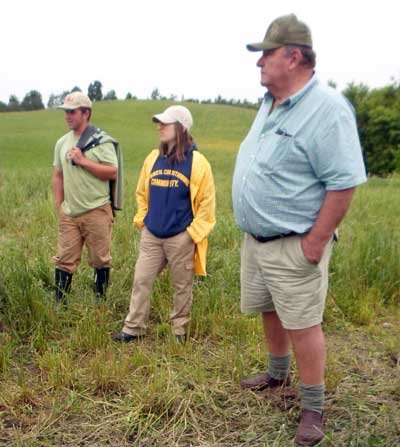 Another added benefit that is a marketing plus for grassland agriculture in general is that organic matter stores carbon. By building up your soils, you are storing carbon instead of releasing it into the atmosphere. It was said that if agriculture went with more perennial species like grass there would be a great reduction in atmospheric carbon.
It will be the farmers who will save the world, not the politicians!
Agriculture is booming in our area. Grass fed beef is making great strides lately as a better and healthier food for the consumer. The growth of Community Supported Agriculture (CSA) operations, grass fed beef and vegetable operations; many driven by some of today's younger generation are pushing the envelope on new and different products for the consumer. High tunnels, irrigation and specialty crops are growing throughout the nation.
There are about 14 of us grazing people out there that are involved in a Holistic Grazing Management program where we are constantly learning about grassland management for wildlife, beef and dairy cow grazing, organic matter buildup and carbon sequestration.
It's all about the ecology of grasslands and cattle. You must learn to look at the whole thing and understand how it works; not just looking at a piece of the ecology pie! I will try to keep you all informed as we all learn.
We all must keep learning until the day we die. We will probably learn something then, when we step across that threshold! But I am in no hurry!
I would like to thank Ed Schillawski of the Seedway Company for their donation. A special thank you to both the Lincoln and Larson families for taking the time out of their busy day to share their farm experiences with all of the tour folks. Thank You to Ian Mitchell Innes from South Africa for a great presentation on mob stocking and to Jenn Colby of the UVM Center for Sustainable Agriculture.
Vote on this Story by clicking on the Icon