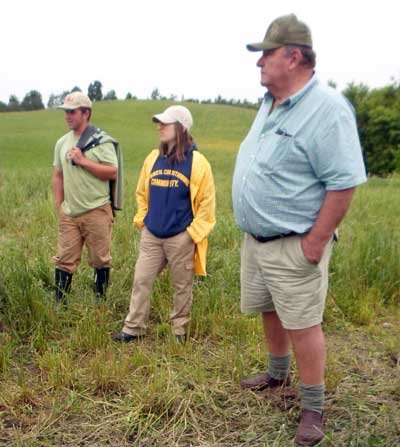 Traditional grass management is to graze when the grass was about 9 inches high and down to 4 or 5 inches to get the fresh growing high protein feed. Basically it was a take half, leave half approach. This allowed the high protein grasses to be grazed, and enough leaf left for photosynthesis.
High grass grazing is now being looked at as another option. High grass grazing is letting the grass get even higher, to maybe 20 inches and just taking the top third of the plant. The actual height will depend on the species of plant growing. REGROWTH TIME is critical to allow the leaves to grow as high as possible without the plant going to seed head stage, and to allow the roots to grow deeper and build organic matter. By grazing the top 1.3 of the plant, the cow gets the "cream" off the top. The remaining plant is left or trampled until the next time the cows rotate through the paddock. The benefits are that some organic matter is pushed into the ground by the cows hooves slowly building up the soil, the leaves that are left are longer so the plant grows faster due to increase photosynthesis of the plant leaf and the cows get the high energy or cream off the top of the plant for their use. The long grass residue left protects the soil from drying out and keeps the soil microbes happy so they do their thing breaking down organic matter and releasing nutrients to the grass plants.
For beef operations, I feel the high grass grazing approach is fine, but I am not sold 100 percent yet on how dairy cow milk production would be on higher grazed grasses. The farmer would have to do a comparison and see what happens in the bulk tank to know the truth. That would be an easy test to perform on the farm.
Vote on this Story by clicking on the Icon