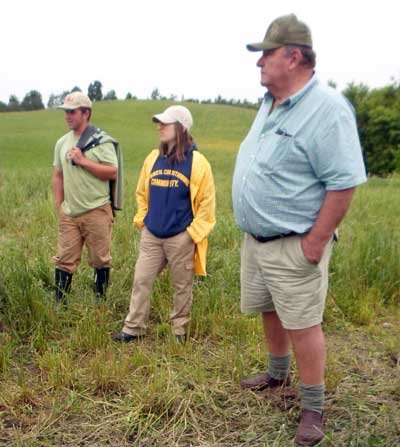 More than 25 years ago I was involved in the effort to promote grazing management. During the early years, grassland management for feeding beef or dairy cows was not promoted by the agricultural universities, or most of the conservation agencies at the federal, state or local levels.
Pasture was old style farming and the Ag. Professors were pushing the new and improved model of farming. Universities utilized grant money from chemical and fertilizer companies to do studies, so they towed the company mantra of bigger is better, get big or get out, keep the cows in the barn, and use our latest new and improved product to improve your bottom line, which was really the salesman's and the company's bottom line. The times haven't changed for many products!
The times have changed for pasture though. Here it is, 25 years later and grazing management has been accepted by many farmers to improve their bottom line. Grazing grass reduces manure handling costs and energy costs, improves soil health and herd health by getting the cows out of the barn and on grass pastures where nature intended them to be in the first place.
I recently attended two grazing meetings, one in Essex County, NY and the other in Wells, Vermont. At both meetings, grassland production was based on quality soils and the benefit of having abundant organic matter to supply nutrients and energy to growing plants.
Grazing consultants, including myself, have a variety of options on how to graze.
For reseeding and establishing clover, there are times when nubbing the grass down to the dirt and drilling or spreading clover or perennial ryegrass seed works. Letting the cows push the seed and organic matter into the soil with their hoofs gets the job done. Drilling into sod works also, BUT, it must be done when the grasses are nubbed down, and there is plenty of moisture to allow the young plants to get established. If the grasses get too high, they will shade out the clovers that are trying to grow.
(Continued on Next Page)
Prev Next
Vote on this Story by clicking on the Icon