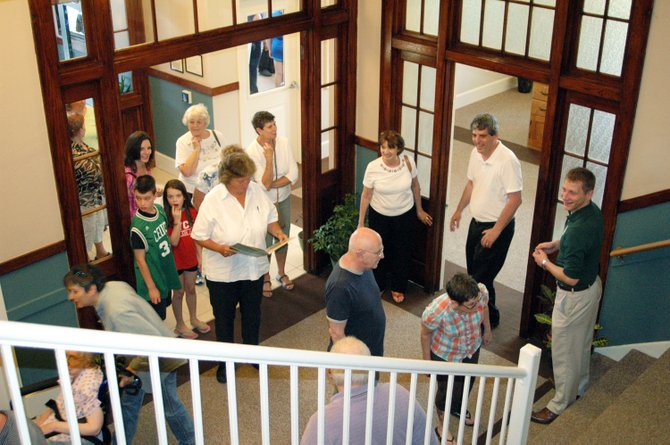 continued — Sayward said she was pleased that someone stepped up to take on the challenge of renovating the building.
"This could have been lost very easily to our community," she said. "Without the vision of the school board at the time of the sale and the support of the community, this building would be just as it was, only worse."
The building was closed as a school in 2001, with its youngest students at the time of the closure now preparing to graduate as members of the Class of 2013 June 21. Present at the opening of the new Willsboro Central School was then Gov. George Pataki, who was also on hand for the re-opening of the former school site.
"I think that this is tremendous not just for Willsboro, but for Essex County and the North Country," Pataki said. "I would be in town with Libby and we would see the building and think that there has there has got to be some kind of creative reuse and now we have it and it is something that the community can be proud of as well as Eli."
Schwartzberg said that representatives at all levels of government played a key role in turning his plans into reality.
"When I needed help, these officials who represent this area were there for me," he said.
"This is just a really good use of a community resource," Congressman Bill Owens said. "It puts an asset back into the community and this is something that we need to do in lots of other communities."
"It is so exciting to see that this great school is now getting such great usage in a new life," state Sen. Betty Little said.
"The extra mile that Eli went to save the history and preserve the memories of the community is something that should be treasured and honored," Sayward said. "He could have gutted this building and done this in a much less expensive way, but he did not."
Vote on this Story by clicking on the Icon