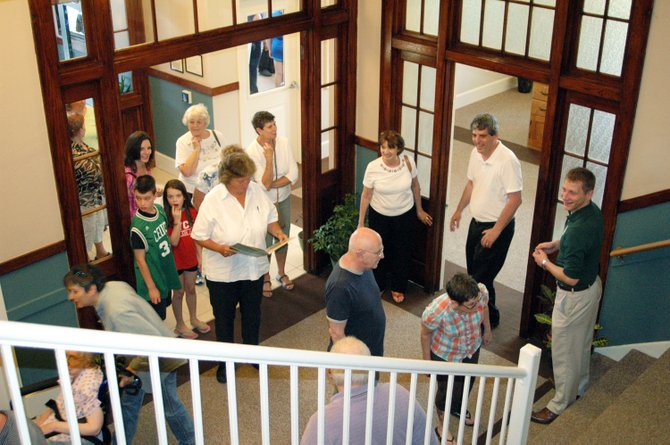 Willsboro — Teresa Sayward stood where she had once watched over her children and grandchildren as they played basketball in perhaps the most famed North Country gym, "the pit."
Now, she looked out over a carpeted gathering space with a small kitchen area, dinner tables and a stage for shows and events, all part of the transformation of the former Willsboro Central School building into the Champlain Valley Senior Community.
Photo Gallery
Champlain Valley Senior Community opening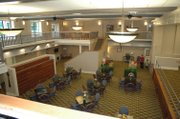 Pictures from the June 22 opening of the Champlain Valley Senior Community in the former Willsboro Central School building.
"They have done just an amazing job," said Sayward, who has been involved in the resurrection of the building as a town supervisor and member of the state Assembly before her retirement last year. "I was here when there was a hole in the ceiling and have seen the progress throughout, and it is just breathtaking."
Sayward was just one of many who walked the halls of the former school, now transformed into a senior living facility under the development of Eli Schwartzberg, remembering where their classrooms were while taking in the new rooms and facilities that make up the renovation during an open house and grand opening ceremony June 15.
"The first thing that I had to do was find my old classroom," Lorilee Sheehan, who taught at the school, said. "It was great to see my name and my three kids' names on the wall. It's just breathtaking."
"It is unbelievable what Eli has been able to do," Willsboro School Board member Bruce Hale said. "His attention to detail and preservation is what makes this what it is. They went above and beyond what they had to do to maintain aspects of the school."
"It was a longer journey than I had planned, but the outcome is greater than I had ever dreamed," Schwartzberg said during the opening ceremony. "I am so glad to see such a tremendous outpouring of support for this. I know how dear this building is for so many in the community who went to school here. I hope that you can be proud of what has been done here."
(Continued on Next Page)
Prev Next
Vote on this Story by clicking on the Icon