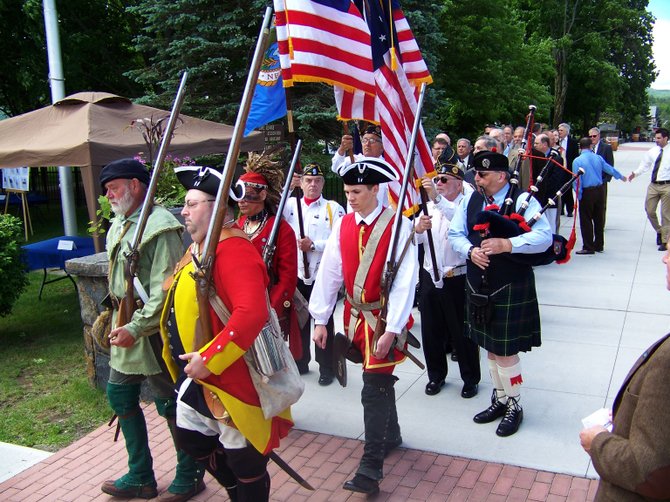 continued — "We care for our heritage," she continued, noting the building's preservation. "The evolution of this building demonstrates that as a collective, a democracy, with effort and intent, the best of our values can prevail."
North Warren High School Student Christiaan Van Nispen read an award-winning patriotic essay he penned. His speech drew a parallel between our democracy and human anatomy — how various bodily elements work together symbiotically for a greater purpose. He said the U.S. Constitution was the backbone of the government, and U.S. citizens provided the pulse of the democracy.
"We the people must keep our government in check to maintain our nation's homeostasis, " he said.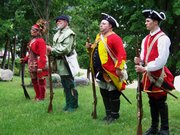 The event's featured speaker, state Historian Robert Weible, said that there was no better place in the U.S. than Warren County to study history.
"You have an important story to tell here, not only local history, but state and national history as well," he said. "If you truly feel this history and take pride in it, you can change the future."
Glens Falls actor Wesley Ecker portrayed Lake George settler James Cadwell — speaking about the life of the historical figure, a successful merchant, importer and manufacturer in both Warren County, who once owned and operated the nation's largest manufacturing complex in the Albany area. Ecker, posing as Caldwell, recounted his role in developing commerce in the region, as well as speaking of details of his personal life.
The Warren County Bicentennial plaque was unveiled by Geraghty and Joan Sady, Clerk of the county Board of Supervisors. The plaques are to be presented to each of the county's municipalities.
Bolton Supervisor Ron Conover commented on the gravity of the celebration.
"This has been one of the major events in our county's history," he said.
County Administrator Paul Dusek added his thoughts.
"It's quite a privilege to be county administrator during this time period," he said.
The ceremony concluded by four French & Indian War re-enactors firing musket shots into the sky above Lake George.
Vote on this Story by clicking on the Icon