Keeseville — George "Speedy" Arnold was surprised to hear his name called.
Surrounded by family and friends that made the trip with him to the Adirondack Center for Writing's (ACW's) annual Adirondack Literary Awards June 2, he knew there were a lot of good books that had been entered into the competition.
Among them was his, "What's an Elephant Doing in the Ausable River?" Arnold wrote and illustrated the book.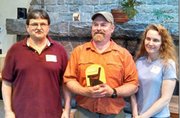 "My publisher said that I should go," Arnold said. "What made it nice was that my son, daughter-in-law, wife, sister and some friends came with us. I saw all the books that were nominated and my thought was well, at least it was nice to be nominated with them."
Not expecting to hear his name called, Arnold said he was completely surprised when it was as the winner of the People's Choice Award, selected by ACW members and attendees.
"It was a pretty amazing thing," he said. "This was not just a fantasy book for kids but a story about the Ausable River. It talks about places on the river and the historic bridges that you see here."
The 60-page hardcover book, with more than 130 full-color illustrations and published by Bloated Toe Publishing, takes a young boy and his dog on an adventure along the Ausable River in Keeseville.
Arnold will be appearing at the Plattsburgh Farmers & Crafters Market on Durkee Street June 15 and 29 and the Keeseville Farmers' Market in downtown Keeseville on June 19.
The book can be purchased at the author's business, Arnold's Grocery and Likker Lokker in Keeseville, 182 Pleasant St.( Rte. 9N). The book can be purchased online through's North Country Store books (bloatedtoe.com/elephant-ausable-river.html). The Bloated Toe website also lists other area stores where the book is available.
The Adirondack Literary Awards celebrated books that were written by Adirondack authors or published in the region in 2012. All of the books submitted were on display at the June 2 event, with other winners including:
(Continued on Next Page)
Prev Next
Vote on this Story by clicking on the Icon