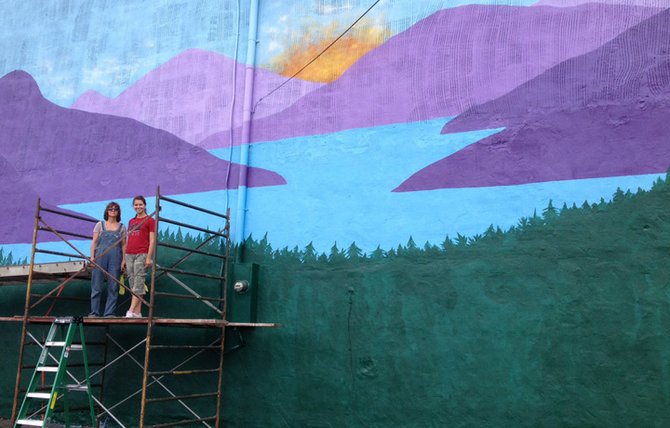 continued — "A few artists collaborated on the image, making minor modifications in perspective," she added. "The group wanted the mural to be bright, uplifting and appropriate for all seasons. Vincent Smith, Ti alliance board member and cultural arts initiative chairman, offered color consultation to select shades of blue for the sky and water, purples for the mountains and greens for the trees."
The initial plan was to have students plan the mural on panels that could be erected against the building wall. That proved costly.
The building owner wanted to cover the entire 52 x 26 foot wall, requiring scaffolding and working 20 feet above the ground.

"The school couldn't put students at risk working that high above the pavement on scaffolding, so we had to find someone else who was willing and able to apply the image," Van Wert said. "Several artists were consulted but were either willing and didn't have the time or had their own concerns about the height and the size of the project.
"Necessity is the mother of invention and our group became even more creative to bring art and technology to the task," she continued. "Jim Beaty, retired engineer and a Ti alliance board member, used CAD (Computer Aided Design) to apply grid lines on a scanned image of the mural. This measured points on the wall to identify the tops of mountains, overlaps of peaks, locations of bays and the start of treetops. Selected colors were then designated for each area on the grid and we essentially had a 'paint by number' picture to work with."
Jim Beaty, Seddon Beaty, Patty Hogan, Keeley Andrushko and Maryann Andrushko completed the painting in three days.
Aubuchon Hardware provided the paint at cost. Paul Connery used his bucket lift to remove an old sign, patch the side of the building and spray the first layer of blue on the entire wall, serving as a base coat and creating the color of the sky. Bill Best brought his crew to setup scaffolding for the painters and repositioned it as painting progressed. Jay Fortino moved cars from his parking lot.
Other participating the mural project were June Curtis, Al Mattison, Sharon Reynolds of PRIDE, Crispin Shakeshaft, Linda Smyth and Emily Sola.
The Ticonderoga Revitalization Alliance is a not-for-profit, local development corporation whose mission is to restore economic prosperity to the Ticonderoga region by serving as a clearinghouse for innovative ideas and resources, and a catalyst for public-private partnerships and investment opportunities. The alliance was formed in 2010 by an unprecedented citizens' alliance.
Vote on this Story by clicking on the Icon