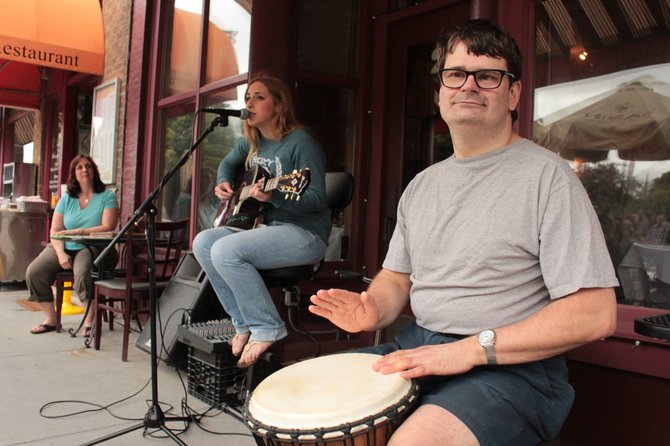 The ensemble had a stand-up bass, accordion, conga drums, acoustic guitar and harmonica, and were set up right on the double yellow line that bisects City Hall Place by Trinity Park.
When Tim McCormick, a board member of the Adirondack Young Professionals, asked Wurster if Lucid would perform at the summer's last First Weekend in September, Wurster said he loved the concept and wanted to get more involved.
He began going to First Weekend meetings, and would now like to use his connections with Lucid to draw bigger acts to the event.
"Some of my favorite memories as a kid are of people doing this, just getting together to play music," Wurster said. "We need people to come out to support this, to show people that we want it."
His sister, Catie, who also performed with Punkahontas early Saturday afternoon, agreed that the event was good for downtown, but said she'd like to see more cohesion in the planning of future First Weekends.
"This is a nice concept, I just wish people could get together a little better," Catie said. "There's just a lot of people with a lot of different ideas."
It's true that getting all of the interested parties on the same page was a challenge for the event's many organizers, but those organizers largely agreed that, despite the hurdles, they were pleased with the turnout, and grateful for the work of the volunteers and businesses who made it all happen.
"It's a sense of community. None of these people are getting paid, everybody just did it out of the goodness of their hearts to support the community," said Leigh Simonette, Civic Committee Co-chair and member of the Adirondack Young Professionals board of directors.
There was a catch, though—the streets were made pedestrian-only due to the Biggest Loser Run/Walk, which happened to take place the same weekend as the inaugural First Weekend.
Vote on this Story by clicking on the Icon