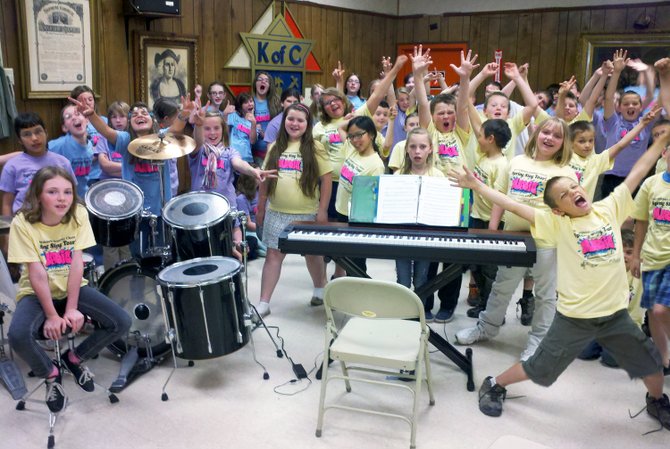 Willsboro — A pop star's life is spent on the road.
To help their students get a small taste of that life, Willsboro Central School gave members of its Academy Chorus a day in the life of a touring musician, as students in grades 4-6 (along with third grade drummer Anna McShane) headed out on the road June 6 for a three-stop, county-encompassing tour that included Westport Central School, the Keeseville Knights of Columbus and the Horace Nye Nursing Home.
"The students wanted to do a concert of popular music, and we wanted to work out a way to also turn it into an educational experience," Willsboro music teacher Jennifer Moore said. "We wanted to give them a sense of the work that is involved in the life of being a pop musician and the time spent on the road and sharing their music."
At the three stops, the students sang popular hits such as "We are Young" (Fun), "Fireflies" (Owl City), "Good Girl" (Carrie Underwood), "Eye of the Tiger" (Survivor), and "Cups (When I'm Gone)" (Anna Kendrick). Throughout, the chorus was accompanied by Moore and their drummer, McShane, who has been playing for just three months leading up to the shows.
"It is pretty cool to be with them as a third grader," McShane said. "My favorite song to perform is 'We Are Young.' 'Good Girl,' is a little complicated, and I do mess up sometimes, but I am able to get back on the beat and do better after."
The singers also enjoyed their day on the road.
"It feels great — this is my first tour," fourth grader Stephen Liebeck said. "Just to be here and getting to do this is an honor."
"It was definitely an amazing experience," sixth grader Jared Joslyn said. "It was a pleasure to sing to all of the groups, I just do not know how to explain it."
(Continued on Next Page)
Prev Next
Vote on this Story by clicking on the Icon