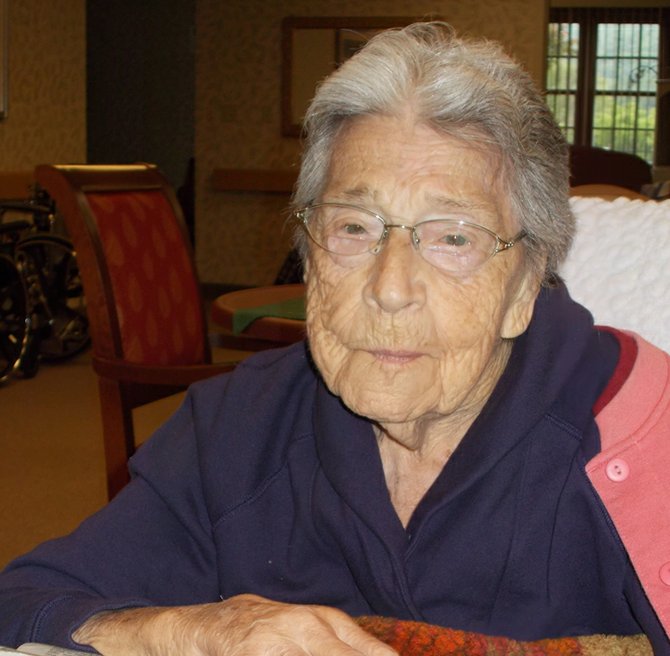 Ticonderoga — Hazel Straight doesn't understand all the fuss.
"I don't know who cares about this," Hazel said the day after her 100th birthday at Heritage Commons in Ticonderoga. "It's no big deal."
Others disagrees.
"She a remarkable woman," said Nancy Sheldon, Hazel's daughter. "It's funny, we'd always said she was tough. And when she goes to the doctor, he always says she's tough. I guess that's the word. She's tough.
"She's smart, too," Nancy added. "She remembers everything. Sometimes I have to call her when I can't remember things."
Hazel was born June 11, 1913. She grew up in Richford, Vt. As a young woman she moved to New Hampshire to take a job in a photography studio.
Eventually she found her way to Elizabethtown, where she met her husband Leo Cole. The couple had two daughters, Jean and Beverly, before Leo died in a hunting accident at age 29.
"I don't like to talk about that," Hazel said. "It was a sad time."
Hazel then met Charles Straight. They married and moved to a home on Prospect Avenue in Port Henry. The couple had two daughters, Nancy and Cheryl.
They raised their family with Charles working in mines for Republic Steel and Hazel taking care of the four girls.
Charles died in 1989. The couple was married nearly 50 years. Hazel then moved to Lord Howe Estates in Ticonderoga. She lived on her own in an apartment there until a recent bout with pneumonia. She is now recovering at Heritage Commons, but plans to get back to her home soon.
"I really want to get back to my apartment," she said. "It's nice here, but I can't wait to get home."
Hazel has lived through the Great Depression, World War II, the nuclear age, the moon landing and much more.
(Continued on Next Page)
Prev Next
Vote on this Story by clicking on the Icon