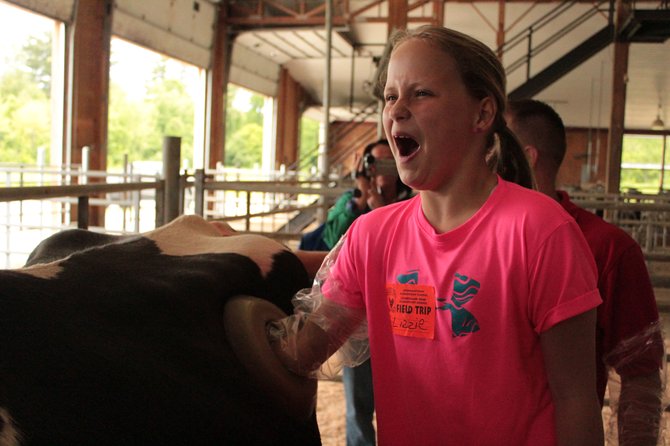 CHAZY—Since 1982, the William H. Miner Agricultural Research Institute has hosted a free open-house to fifth-grade students throughout the region called Farm Days for fifth graders.
The three-day event, which ran June 4–6, consisted of eight hands-on exhibits, all led by students studying animal sciences from universities in places as close-to-home as Vermont and as far away as Puerto Rico.
The college interns are part of a summer-long research program that focuses on farm management, equine management and agriculture research.
"Farm Days is a good opportunity in a controlled environment for the (college) students to interact with a public that doesn't know a lot about agriculture," said Wanda Emerich, Dairy Outreach Coordinator at the William H. Miner Agricultural Research Institute.
Emerich has been involved in Farm Days for fifth graders since 1983, and said her favorite part of the event is hearing how excited people get when they come face-to-face with the sights, smells and sounds of a working farm.
But, as the 506 elementary-aged students who recently visited the farm learned, the field trip wasn't to a glorified petting zoo—there's a lot of research going on at Miner Farm.
Emerich said a lot of that research is to study the interaction between food crops and milk production.
The types of feed are documented, along with how the stress of varying temperatures, humidity and overcrowding can affect the productivity of a group dairy cows.
The outcome of those factors—the components of the milk that is produced by the cows—is studied, with the goal of determining how efficient the cows are at producing the milk.
"Right now the research is still being summarized," Emerich said. "There's a lot of data that needs to be verified. We're really trying to get more production per acre, because we aren't making any more acres."
(Continued on Next Page)
Prev Next
Vote on this Story by clicking on the Icon