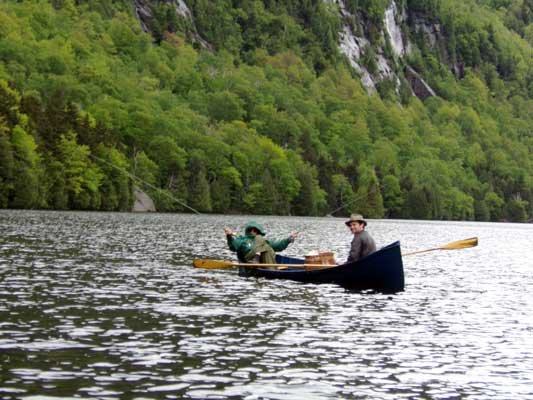 Water levels continue to rise all across the North Country, and fortunately so do the trout, especially on many of the smaller brooks and streams which tend to flush faster and return to normal levels more rapidly than the larger rivers.
I've spent a fair bit of time in recent days, working the smaller tributaries in pursuit of wild brookies and rainbows. It never ceases to amaze me how far up into the headwaters trout can be found.
I've also had success working the lower, slower moving valley waters, where beaver activity has created larger pools and the trout remain as thick as the blackflies.
Fortunately, relief arrived last weekend when a major hatch of dragon flies brought some vicious thunder to the black clouds of flies.
It appears this has been a particularly good year for big fish, as evidenced by the most recent state record brookie which cracked the 6 pound barrier.

Many brook trout anglers wonder if there will ever be a record fish to top the old historical mark of 8 lb., 8 oz. taken by William Keener from Punchbowl Pond in Sullivan County, way back in 1908.
That fish stood atop the record books for nearly a century, before the official NYS records were expunged in 2003 due to the lack of sufficient biological and photographic evidence.
It is not likely there will ever be a freshwater brook trout to top the 14 pounder that Daniel Webster supposedly caught on Long Island's Carman River back in the 1880's.

However there is recent evidence that the population of 'salters', as sea run brookies are known, is on the rise.
A few years ago, I received a photograph of a Long Island angler who took a pair of salters from a small estuary stream on Long Island Sound. One was a rainbow and the other a brook trout.
Joe Hackett is a guide and sportsman residing in Ray Brook. Contact him at brookside18@adelphia.net.
(Continued on Next Page)
Prev Next
Vote on this Story by clicking on the Icon