Port Henry — Moriah Supervisor Tom Scozzafava has racked up a long list of accomplishments in a career spanning three decades. Now, he can add two more items to his resume — innovator and published author.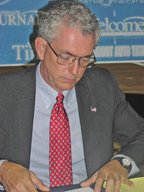 Scozzafava, an electrician by trade, recently made a suggestion to "Electrical Contractor" magazine that was published. The magazine has a circulation of 87,000.
After reading in the national trade journal about electricians who have trouble dropping parts while on ladders, Scozzafava offered his own experience.
"I have screwed a heavy plastic dog dish to the top platform on my 6-foot fiberglass stepladder," he wrote to the magazine. "I use it for my wire nuts, screws and other small parts when wiring overhead. When moving the ladder, the dish and its contents stay secure. No more climbing up and down the ladder for forgotten or lost parts."
That simple, yet effective, idea was included in the magazine's "Ideas that Work" section. Not only was Scozzafava credited with the idea, he was awarded a $50 prize.
"Every contractor has little ideas to make jobs easier," Scozzafava said. "I just thought this was worth sharing. It's simple, but it works. I've learned a few things over the years."
Although most of his time is spent as Moriah's chief executive, Scozzafava has been doing electrical work the past 35 years on weekends.
"I stay busy," he said. "I started doing electrical work in high school and have always kept at it. I enjoy it.
"It helps pay the bills," he added. "It keeps Carlotta on the road."
Carlotta is Scozzafava's Harley Davidson motorcycle.
Vote on this Story by clicking on the Icon