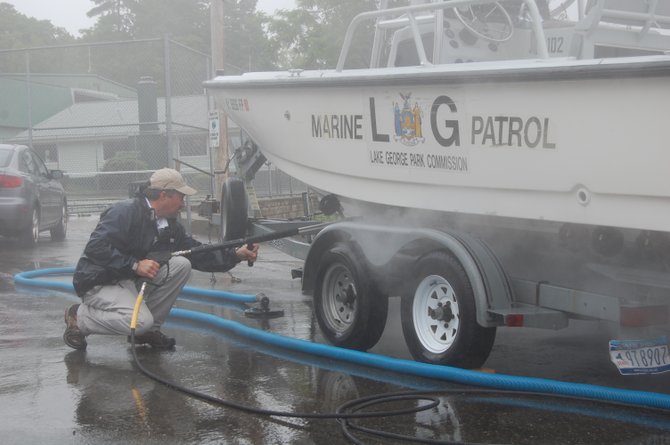 continued — Since 2006, the DEC has spent $4.9 million on invasive species eradication across the state and $1.46 million was allocated to Lake George through the Lake George Park Commission.
"With this investment, we will have a fighting chance to keep invasive species out of Lake George," said Joan Leary Matthews, Director of the EPA's Region 2 Clean Water Division.
Also in attendance to show support for the legislation was New York State Department of Environmental Conservation Commissioner Joe Martens, Lake George Mayor and S.A.V.E. Lake George Partnership Chairman Robert Blais, Executive Director of the Lake George Association Walt Lender and state Assemblyman Dan Stec, R-Queensbury.
Boat Washing
Following the press conference, Lake George Park Commission Boat Decontamination Specialist Doug Underhill gave a live demonstration of a typical boat washing that will be performed at the designated stations.
Underhill said launch attendees will rinse the entire boat using a pressure washer with 140-degree temperature water.
"When the water is above 140 degrees, it kills invasives species that might be carried on the boat," Underhill said. "It won't cause any problems to the boat or the engine at that temperature."
"This isn't just a problem in Lake George, but eventually this will probably be statewide," Underhill said. "I've talked to people from Chester, Loon Lake, Brant Lake and it's definitely something everyone is thinking about."
Vote on this Story by clicking on the Icon