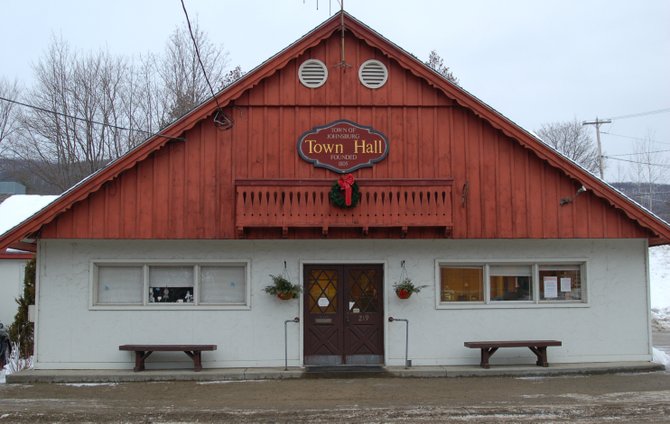 Wevertown — Of the issues tackled by the Johnsburg Town Board at their June 4 meeting at the Wevertown Community Center, the most important went beyond the town itself. Between a proposed speed limit change and a funding mixup with the Federal Emergency Management Agency (FEMA), Johnsburg is up against both state and federal bureaucracy.
The proposed speed limit change would amend the 55 mph section of State Route 28 — a stretch from the current 45 mph limit sign north of Stewart's past the Ski Bowl Park and the nursing home — to a 45 mph zone. The desire for the change is nothing new. Board members said they are especially concerned given the number of car accidents on Route 28 in the past, but speed limit changes have to go to through the state. And the state has rejected every request Johnsburg has sent so far.
Town Supervisor Ron Vanselow introduced a motion to send in a new request, this time with the support of state Sen. Betty Little.
Councilman Gene Arsenault wondered why there hasn't been an opportunity for dialogue with the state on this issue. Vanselow noted that the criteria to make the change are very strict.
"Either you meet the criteria or you don't," Vanselow said, noting that the process can "get political." He hopes Little's support will be enough to surmount those politics and give the town's request the headway it needs to be approved.
Board members unanimously approved the motion to submit another request.
The latter half of the meeting was dedicated to a grievous error in FEMA funding from 2011/2012, one that could cost Johnsburg $57,000. The town originally requested money from FEMA to repair roads damaged during Hurricane Irene in 2011. However, due to what was explained as "a FEMA employee checking the wrong box," Johnsburg received $97,000. Now FEMA wants the excess money back and has contacted the Town Board regarding repayment options.
(Continued on Next Page)
Prev Next
Vote on this Story by clicking on the Icon