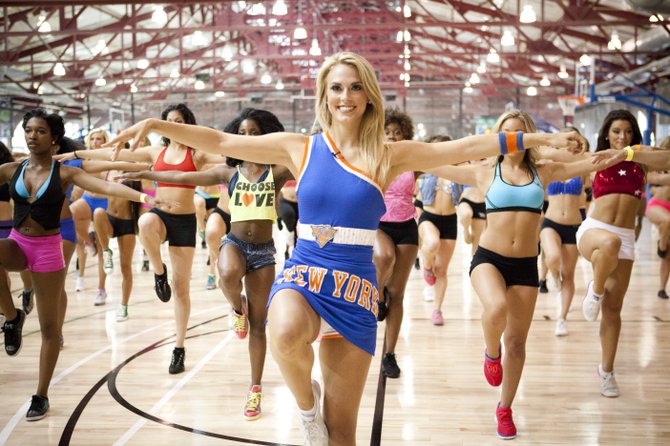 PLATTSBURGH— North Country dance enthusiasts of all ages will have a once-in-a-lifetime opportunity to learn some moves from a Knicks City Dancer.
On Saturday, June 8, Knicks City Dancer Amanda Eve will host two dance clinics at Center Stage Plattsburgh.
If you go:
What: Knicks City Dancer New York Workshop
Where: Plattsburgh Plaza, Rt. 3, Plattsburgh
When: Saturday, June 8
Cost: $45 per dancer
Contact: 536-6093 or visit http://yhst-14884... to reserve a spot.
Heather Van Arsdel, who was a Knicks City Dancer for six years, opened the Center Stage Plattsburgh dance studio in 2011.
"The two clinics are divided up by age, and it's to showcase the choreography that the girls perform at Madison Square Garden during games, teach them how to perform to a large crowd, and to teach them jazz and hip hop choreography that's actually performed on a court," Van Arsdel said.
The first session of the day is a junior class for ages 6–12 and will run from 1–2:30 p.m.
The second session is for dancers aged 13 and older and will run from 2:45–4:15 p.m.
Each session will begin with a warm-up and the fundamentals of jazz and hip hop dancing.
Next, participants will learn jazz and hip hop choreography used by the Knicks City Dancers.
Each workshop will conclude with a question and answer session with Amanda Eve, and each participant will also receive an autographed Knicks City Dancer placard.
"This is a chance to get real professional experience from a professional dancer in a place where you would normally not get this kind of experience," Van Arsdel said. "This is the first time they've ever been here, and it might be the only time they ever run a clinic this far from Manhattan."
Van Arsdel said hundreds of dancers try out for the Knicks City Dancers every year, but there are only about 22 members on the squad.
"They are the best dance team in the league," Van Arsdel said. "They're not cheerleaders, they're professionally trained dancers. There's a real diversity to the shows they do."
Van Arsdel explained that cheerleaders do stunts, cadences and verbal cheers, but Knicks City Dancers do choreography from Broadway shows and also do numbers that include hip hop and jazz dancing.
Space for the workshops is limited to 50 people per session and the cost is $45 per dancer.
To reserve a spot, visit http://yhst-14884623790530.stores.yahoo.net/kcdnewyodawo.html
Vote on this Story by clicking on the Icon