Mothers and daughters stopped in to chat; ANGELA AND JAYVANNA BUCCI are excited about changes in their lives; new jobs and an upcoming graduation from high school. The changes are invigorating and exciting to them. JULIE AND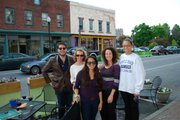 CAITLYN WOODLEY are spending time together at the gym and at DRESS CODE, and are recognizing that reconnecting (with two other daughters/sisters) after a college year apart is just as important as pursing their dreams.
Our good friends, SUZY PELLERIN and CHELSEA SCHEEFER, are firm believers in family dinners to keep everyone connected in their busy lives. Hot topic advice discussions, and hopefully some ideas to try, were about helping a partner to be more affectionate and communicative, interpreting teen's complaints and what they really mean, and the pros and cons of school dress codes.
So what did we take away from FREE ADVICE NIGHT? A sense that the people of Plattsburgh like to reflect and improve on the past and to hold family, travel, and challenges as important! Above all, to take the time to connect for an hour or two with friends. Join us!
FREE ADVICE NIGHTS: Wednesdays and First Fridays from 5:30 to 7 pm at the Champlain Wine Company email us your questions at yourstyleandsubstance@gmail.com or visit our website at www.yourstyleandsubstance.com and check out our blog at borderlessnorth.org
Vote on this Story by clicking on the Icon