FREE ADVICE NIGHT got off to a great start this past Wednesday. City Hall Place was busy with friends and advice seekers stopping in to ask questions and have a glass of wine. SCENE in PLATTSBURGH will feature the "stars" of these nights and their advice to what has made living, working, raising families in, and possibly leaving and coming back to Plattsburgh a great life experience. Overall good advice is to try new things, embrace change and take a little time out for a glass of local wine!
COLIN REID, Co-Owner of The Champlain Wine Company, gave us updates on FIRST FRIDAYS in downtown Plattsburgh. The first, First Friday, is set for June 7. Join friends or make new ones while listening to live music, checking out a new shop or restaurant, and viewing beautiful Lake Champlain. The North Country Cultural Arts Center will be hosting a FREE Family Art Activity from 5-7pm on the Front Lawn. And of course, FREE ADVICE will be in full swing from 5:30 to 7 pm!
CATHERINE MUNN AND KIM LEREAU just came off an empowering first-time marathon experience. Their shared comment was, "I feel like I can do anything", and the actual running of the race was much easier than they anticipated. Training on the streets of Plattsburgh with friends gave them the miles and experience to complete the first of many marathons!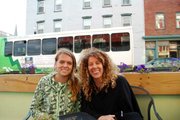 ALEX MUNN recently returned from a fall semester study abroad in Prague. In reflecting on that, he was inspired by the beautiful architecture and how people from all over share so much in common even when language and locations are so unique.
IVAN GOVEN, a Plattsburgh State college student and server at the wine company, decided to stay in Plattsburgh this summer and was off to his Chess Club that he attends on Wednesday nights at the Koffee Kat. He said the competition is fierce! Chess Club is open to one and all. Our free advice, stop in for an Iced Coffee and some friendly competition.
(Continued on Next Page)
Prev Next
Vote on this Story by clicking on the Icon