SARATOGA — After a volley of shots was fired into the air by a military honor guard, Thurman resident Kathy Templeton took a box containing her father's ashes and solemnly placed them in a memorial wall located in the Gerald Solomon Saratoga National Cemetery.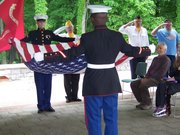 Moments beforehand, a group of four Marines from Massachusetts, in full formal uniforms, had unfolded an American flag, held it aloft, and refolded it — all in crisp ceremonial motions. Then one of the Marines knelt in front of Templeton, presenting the flag to her for posterity — while tears welled up in Templeton's eyes.
Her father, U.S. Marine Staff Sergeant Wayne B. Smith of Johnsburg, had received full military honors in the memorial ceremony. It was conducted by Warrensburg American Legion Post 446 Adjutant Gene Pierce, who is also commander of the Warren County American Legion. The service was attended by about a dozen members of the Saratoga National Cemetery Honor Guard.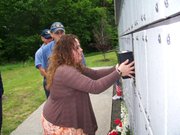 As cemetery workers sealed off the interment compartment with a stone door to be engraved with his name, Templeton reflected on this formal ceremony, which she had sought for years on behalf of her father.
"I feel complete relief that he's finally at rest and he got the recognition that he so deserved," she said.
Pierce, his Legion Post and a Warren County veterans' official made it happen, resolving an unfortunate situation.
Circumstances, including an unsettled estate, lack of a will and depleted family finances had combined to impose obstacles that appeared to prevent Smith from obtaining the interment and full military honors which he deserved.
Pierce had heard several months ago that Templeton needed help in preventing Smith's ashes from being tossed into a common grave, without appropriate recognition. He discussed the situation with the officers of his Legion post as well as Denise DiResta, director of Warren County Veterans Services.
(Continued on Next Page)
Prev Next
Vote on this Story by clicking on the Icon