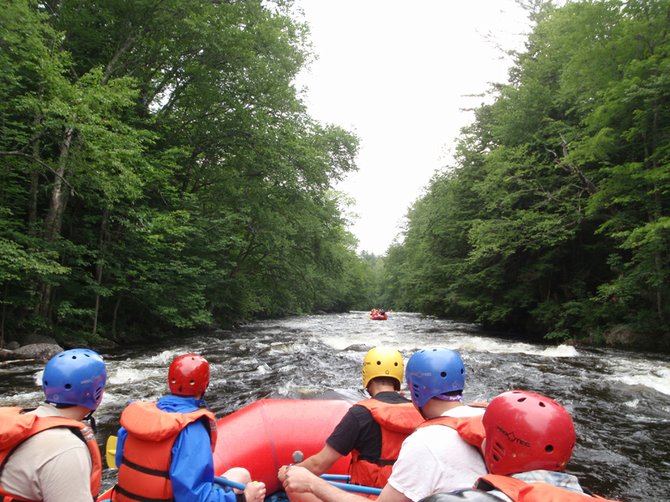 continued — There will be artisan food vendors on the school lawn with an emphasis on products made in New York state.
The festivities will start on Friday, July 19 and last through Sunday, July 21, the day of the Adirondack Challenge.
The I Love New York website will be promoting events in the Central Adirondacks from July 12 to July 21 on the Adirondack Challenge webpage.
"So if the town of Long Lake has an event during those days, they can submit information to Ann Melious, and she will get it posted on the I Love New York website," Pouch said. "And then I Love New York will turn around and promote that and Tweet it, social media, the whole nine yards. So that will give us some extra promotional coverage, which is great because most of us would never be able to afford to advertise with I Love New York."
In order to pull off the Adirondack Challenge, the town and chamber will need a lot of volunteers, according to Pouch. To help out the "invited guests" taking part in the whitewater race, they will need 45 volunteers.
"We also need about 30 volunteers that will help with the festivities in Byron Park," Pouch said. "And then, of course, we're going to need volunteers in town for numerous things."
Anyone wishing to volunteer can contact the Indian Lake Chamber of Commerce at 648-5112 or send an email to indianlakechamber @frontiernet.net.
The Adirondack Challenge will feature a whitewater race on the Indian River for the governor and other elected officials and invited guests. Then there will be an internationally competitive flatwater event in Indian Lake and a festival with food and music at the town's Byron Park. That would include an awards ceremony hosted by the governor.
Partners are the Adirondack Watershed Alliance (Brian and Grace McDonnell of Paul Smiths) and the Hudson River Professional Outfitters Association in conjunction with the Adirondack Challenge Steering Committee.
The Adirondack Challenge is designed to highlight the Adirondack Park as a tourism region. In its first year, a July festival is expected to set the stage for a 2014 event in the spring, when whitewater rafting conditions are typically optimal.
The Adirondack Challenge is featured on the I Love NY website at http://iloveny.com/Summer/Themes/ADK-Challenge.aspx. Details are not yet provided on the site.
Vote on this Story by clicking on the Icon