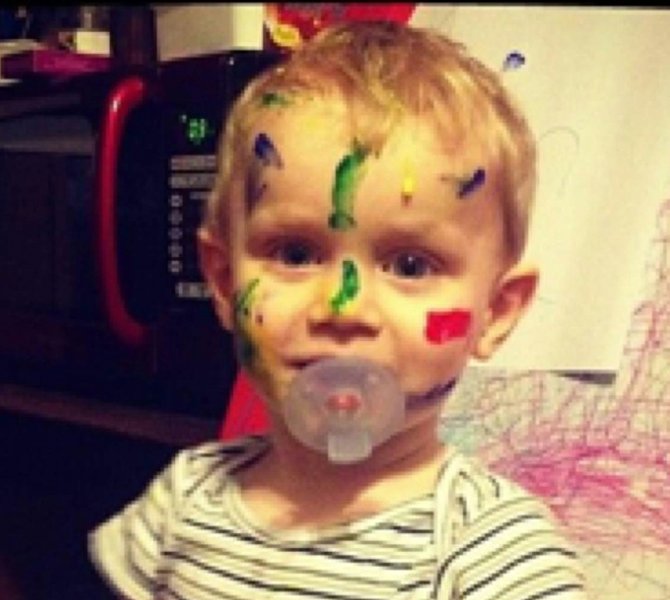 Moriah — A Moriah child may get national attention for being cute.
Kyler Tavis has advanced in voting and is now a finalist to appear on the cover of Parents magazine. The 2-year-old is one of 12 children competing for the honor. He is the son of Amber and Kirt Tavis.
"I can't even put into words the sheer excitement I have that he has even made it this far," his mother said. "Never in a million years would I have ever thought one of my babies would have an opportunity to be on the cover of a magazine popular around the entire world. This is a chance to show that just because you are from a small community, does not mean you cannot live your dreams."
An avid reader of Parents, Amber learned of the magazine's cover contest. Parents were asked to submit photos of their children with online voters selecting the cutest. A child has been chosen each week the past 12 weeks. Those children will now face off in online voting in July.
"I am a parents magazine subscriber and I read about the contest in their magazine and figured I would give it a try," Amber said. "Like every parent I think my son is just the cutest. I never thought we would win the weekly round of voting, but we did."
The prize package totals at $3,300 and includes round trip air fare to New York City, three days and two nights at a hotel and a $150 daily stipend.
Kyler has already won a $250 American Express gift card for winning the weekly contest. He will also be entered to win the $10,000 sweepstakes.
Kyler's winning photo can be seen online at www.parents.com/photos/parents-cover-contest-2013/2013-05-13/xtqc
"Being a tiny community that we are, I think this is an awesome chance to see one of our own on a magazine cover published all over the world," Amber said. "It would be an honor to know that my son is representing a community that has always stuck together and helped one another through difficult times."
The voting will take place in July on the Parents magazine Facebook page.
Amber hopes local residents will vote for Kyler and support the family's efforts to win the cover contest.
"I'd like to ask for the community's support and votes," Amber said. "I am just very excited and think this is an opportunity that will never happen again and do not want to miss out."
Vote on this Story by clicking on the Icon