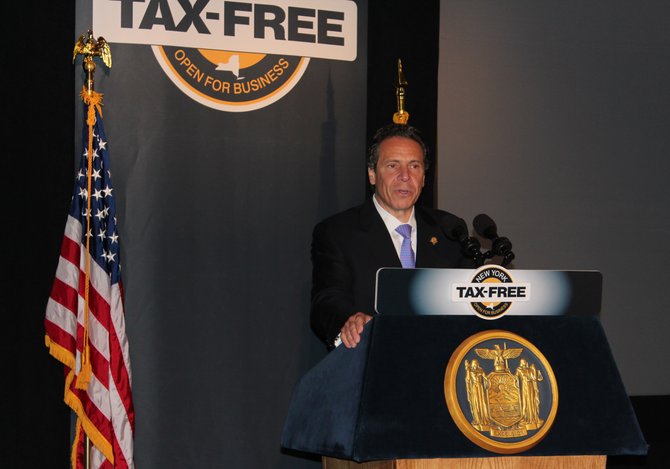 PLATTSBURGH — Gov. Andrew Cuomo visited Plattsburgh State University College on Thursday, May 30 to tout his new "Tax Free NY" program.
The stop was part of a statewide tour to promote the plan, which Cuomo hopes will be signed into law before the state's legislative session ends in three weeks.
If enacted, the program would create a 10-year, tax-free zone on and around SUNY campuses in Upstate New York for new businesses and their employees.
"Tax free means just that," Cuomo said. "No business taxes, no sales tax, no property tax, no franchise fees and no income tax."
The proposal would allow employees in the tax free zones to avoid state income tax for five years, or up to 10 years for certain income eligible individuals.
Eligible tax-free zones would include up to 200,000 square feet adjoining each campus.
Cuomo added there are 64 SUNY schools in New York State, 55 of which are located upstate, and said 97 percent of the state is within 20 miles of a SUNY campus.
SUNY campuses do not pay property taxes, but private landowners located in Tax Free NY zones would still pay property taxes.
To be eligible, businesses must create new jobs and can include start-ups and businesses coming in from out of state.
Existing businesses cannot transfer to tax free zones to reap the benefits.
"This is about creating new jobs," Cuomo said. "I've talked to people who have left New York and they all told me the same thing—they didn't leave because they wanted to, they left because they had to. We're chasing people away."
Three million square feet of private university space, and 20 "strategically located" state owned properties, including closed prisons such as Lyon Mountain Correctional Facility in Dannemora and Camp Gabriels in Franklin County, are also included in the proposed plan.
(Continued on Next Page)
Prev Next
Vote on this Story by clicking on the Icon