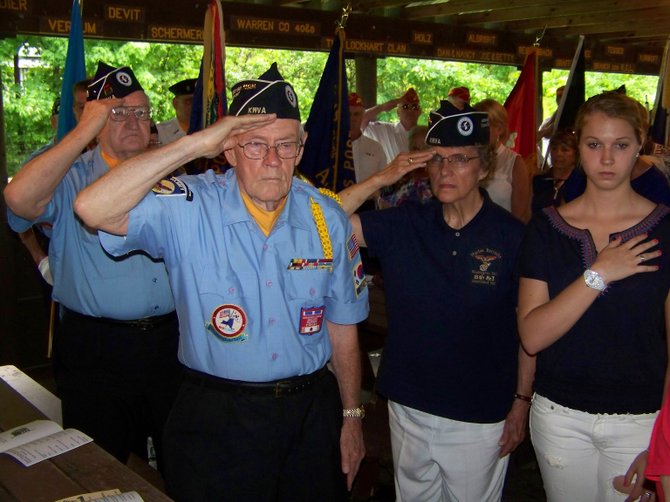 continued — "Many soldiers weren't able to determine their own future," he said. "We're living for them now, and that's vitally important."
Olsen urged those present to reach out to other veterans facing troubles now due to their service while in combat.
"Many veterans have 'checked out' spiritually or are suffering emotionally and physically, trying to wash away the pain," he said. "They need us more than ever."
Olsen also called for citizens to help soldiers now returning from Afghanistan, who may be facing stresses and perhaps feeling disconnected from life at home.
"We need to truly bring them home," he added.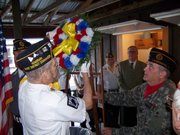 Warren County American Legion Commander Gene Pierce introduced Olsen, noting the Colonel had counseled families at yellow-ribbon receptions and follow-up sessions — to help soldiers resolve their combat-related stresses and readjust to civilian life. Pierce had met Olsen in 2008 when his wife Blanca had returned from duty in Afghanistan — she was a Master Sergeant, concluding a 40-year military career.
"Olsen has not only done a lot for my family, but he's done more to save the lives of soldiers than any program going on," he said. "There are veterans committing suicide every day, and there'd be a lot more if it weren't for Col. Olsen."
Pierce's daughter Megan read a poem that referred to the mental trauma the veterans deal with. She wrote it at age 13 for her mother in 2008 while she was deployed in Afghanistan.
The poem concludes: "I see the hurt that cannot be seen — a hole in the heart; a sacrifice made to provide liberty — Ask any solder, freedom is not free."
Her father, who emceed the ceremony, said that advances in technology and the U.S.establishing relationships with former enemies has offered new opportunities to discover the fate of the unaccounted-for POWs and those soldiers classified as Missing in Action — by researching military documents and interviewing witnesses.
Vote on this Story by clicking on the Icon