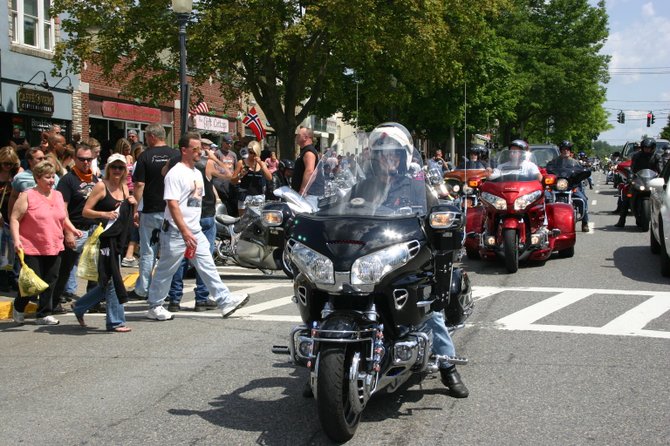 continued — Also new this year is the gravity-defying Globe of Death stunt show, in which two motorcyclists drive their bikes in vertical loops inches from each other. Performances will be held at TourExpo Beach at 11 a.m., 1 p.m. and 3 p.m. Tuesday June 4 through Saturday June 8.
Additionally, a freestyle motocross stunt rider will launch off ramps and perform jaw-dropping aerial stunts 30 feet above the ground — in two shows scheduled for 10:50 a.m. and 12:15 p.m. Saturday June 8.
Social events popular at rally
Whether it's browsing for intriguing bike accessories at TourExpo, examining manufacturers' prototypes, test-driving new models, taking a guided two-wheeled tour into the mountains, or socializing with long-time Americade buddies, motorcyclists will undoubtedly be enjoying the six-day event that is now legendary after 31 years.
Americade offers a wide variety of parties and social events, including Luau and Mardi Gras cruises, plus a new trip by boat to Paradise Bay, as well as a Pig Roast and Hoedown set for Tuesday. Held under a Big Top tent at the Fort, the event includes dancing to the music of Skeeter Creek band.
Also, Americade's annual appearance by acclaimed motorcyclist/comedian Alonzo Bodden has been expanded to three shows — on Wednesday and Thursday at Towers Hall at Fort William Henry — to accommodate more Americaders, Twyman said.
"Alonzo is just a riot," she said.
On Thursday at 9:30 p.m., Americade's new "Festival of Lights" combines a parade of motorcycles with eye-popping special lighting, a fire juggler performing, and several hot-air balloons lighting up.
Biker men finally 'wising up'
Wednesday features a fashion show that is beginning to attract male bikers — after 30 years of bypassing it — following their discovery that the event includes door prizes totalling $15,000, Twyman said.
Friday night features the annual lively party at Great Escape complete with a live band and fireworks; and on Saturday, a get-together at Wild West Ranch features a motorcycle acrobatics show, plus skydivers plunging onto the premises.
Vote on this Story by clicking on the Icon