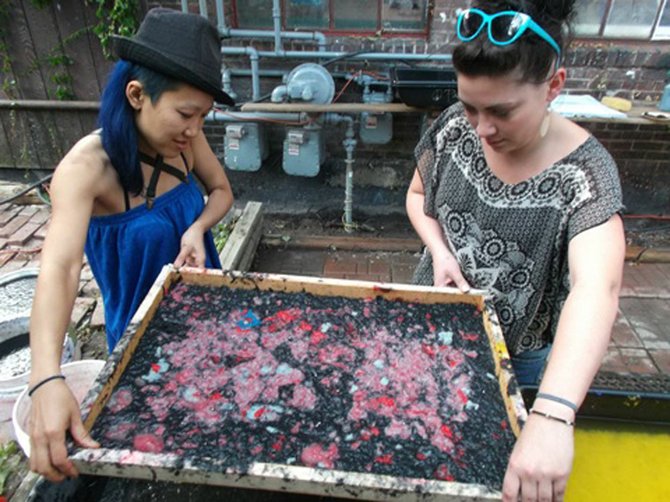 continued — The creation of the Panty Pulp class came about while Mahan was in Istanbul.
"I was assaulted by a stranger in Istanbul, I was uncomfortable and unsure of what to do," said Mahan. "I felt that by taking my underwear, my most intimate or "unmentionables" and turning them into paper the panties became playful and it was exactly what I needed at the time and I felt my own anger transform."
The course will begin with it's participants signing a contract that states "By participating in this process, I am making a vow to myself and my community to use my power to prevent violence in thought, speech, and action."
"The best thing you can do to be an advocate is to share your story, or when someone tells you their story you should believe them, don't ask what were they were wearing just say how sorry you are that something so terrible happened to them," said Mahan. "We want to encourage people on an individual level, it starts with a person and what your doing to show people that this is not OK."
Participants will have the opportunity to transform their own underwear into paper by cutting up the garment and putting it into a portable beater that will undo the weave of the textile, beat the garment into a pulp and then a banana leaf fiber, abaca, is added to strengthen the fiber.
Those who transform their underwear into pulp can make as many sheets of paper as they wish. There will also be community pulp that participants can use to get comfortable with hand paper making. Participants may keep all the paper they create, be it from their personal fiber or the community pulp.
All who sign the contract will receive a letterpress printed Panty Pulping Manifesto. Participants will also have the opportunity to create a poster in response to a visual questionnaire. They can select text, arrange the corresponding silk screens on the wet paper, spray pigmented pulps through the screens and create a complete poster in several minutes
Mahan said anyone unsure about the class are invited to come and see what happens.
"We've had classes where people came to check it out and then left only to come back with three pairs of panties from home," said Mahan. "Come check it out, share with everyone there and if we'll have surplus of extra materials for people who don't have their own."
For more information www.peacepaperproject.org.
Vote on this Story by clicking on the Icon