Photo Gallery
Scene In Plattsburgh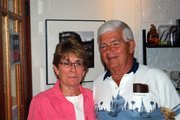 Have you ever felt anonymous in Plattsburgh? If so, stop by Free Advice any Wednesday evening at The Champlain Wine Company; walk around our thriving downtown on a warm summer evening or get out to the Farmer's Market on a Saturday morning. Meet with friends and enjoy meaningful, fun conversation. Making an afternoon or evening out in downtown Plattsburgh can be just the way to renew and reconnect with old or new friends. City Hall Place, Durkee Street and Margaret Street certainly are buzzing with summer fun. Great restaurants, a renovated theatre, and unique shops make downtown Plattsburgh a city on the rise.
Even adults can benefit from a refresher course in "how to meet people 101." Plattsburgh is an interesting sized city - we can see people "out of context" and yet know there is some connection we cannot quite remember. A bit of FREE ADVICE - if "you know someone, but don't know from where", simply re-introduce yourself by saying, "good to see you, I'm….and I am at a bit of a loss for your name"…they will thank you and tell you who they are! And they'll appreciate the effort and sincere attempt at connecting.
JODY and JACK HELFGOTT were out recently enjoying downtown Plattsburgh. With kids at camp, they were celebrating a momentary empty nest at The Pepper! JODY is a friendly face from the Plattsburgh Public Library and she said the "hottest" things happening at PPL this summer are the summer reading program (never too late to bring your kids) and e-books…you can get them through your library card! JACK, owner of YIPES STRIPES, said business is booming for car wraps, (car window advertising for your business!), and tinted windows. Those are two "hot" pieces of advice that can make you smarter and better looking.
(Continued on Next Page)
Prev Next
Vote on this Story by clicking on the Icon