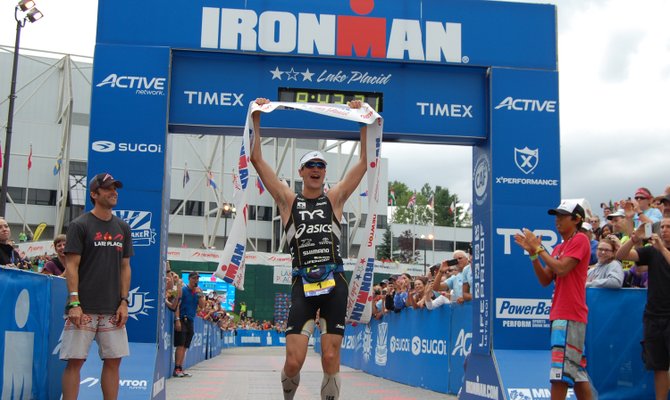 continued — Csoke (HUN) 8:55:55, and Ryan Cain (CAN) with a time of 8:55:57 rounded out the top five.
Potts and Fontano have said they will meet again in Hawaii.
In the women's race, American Katy Blakemore set the pace for the field on the swim. The Denver native completed the swim in 52:05, 12 seconds ahead of fellow American Dede Griesbauer, 3:13 ahead of Australian Carrie Lester, and 11:12 ahead of Hansen.
Blakemore left T1 with a 16 second lead but Griesbauer quickly got to the front and led the rest of the bike ride. She rode 5:23:02 and entered T2 with a 3:35 lead over Lester. However, with the top ride of the day (5:20:25), Hansen quietly made up ground and was only 8:38 back.
While Griesbauer and Lester battled up front, Hansen continued her mission to get to the front. She took the women's best 3:05:04 marathon to earn her first career Ironman victory in 9:35:06.
Sporting a smile throughout the run, Blakemore moved up two positions during the marathon to earn second in 9:42:35. Lester toughed out a third place finish with 9:47:59. Kristin Andrews (USA) finished fourth at 9:50:34, and fifth place went to Danielle Kehoe (USA) with a time of 9:56:33.
Registration for the 2014 competition has opened for more information visit www.ironman.com/triathlon/events/americas/ironman/lake-placid/results.aspx for event information and official results.
Vote on this Story by clicking on the Icon