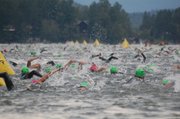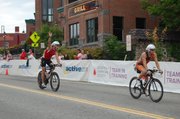 Lake Placid — The 2013 Ironman fans screamed a familiar name at the finish line as the 2012 winner, Andy Potts, became the first competitor at Lake Placid Ironman to repeat July 29.
Potts crossed the finish line at the Olympic Skating rink with a time of 8:43:29 and Jennie Hansen (USA) captured her first Ironman win with a time of 9:35:06 in the 15th year of the Ironman Lake Placid triathlon.
"I think it feels a little bit better the second time around," said Potts. "Any time you can come into a classic venue like Lake Placid and defend the title is certainly one of the highlights of not just my year but my career."
Like last year, Potts led everyone out of Mirror Lake. This time he swam 46:48 (slower from his 45:10 course record swim in 2012), followed by Hungary's Balazs Csoke (49:22) and Italy's Daniel Fontana (49:23).
On the bike course, Potts continued to gain momentum and further extended his lead over Fontana and Csoke. He led by 7:21 after 56 miles, and upon completing the 112-mile jaunt in the Adirondacks, he clocked in a 4:48:33 ride and led by 10:39.
Taking a generous lead into the run, Potts ran a controlled 3:02:41 marathon capturing the win with a total time of 8:43:29. Fontana finished second in his first Ironman race in North America (8:48:29), and American Ian Mikelson had his best race at Lake Placid going 8:51:07.
"This course is tough it really kicked it today but I got the better of it and that feels really good," said Fontano. "The run at the end is always hard but this bike course is no joke whatsoever and to be completely honest, I had a tough ride and lost a lot of time coming up the last climb. I didn't even know if I was going to be able to run, I just felt so bad. But in the last five miles and I was able to get into a rhythm and run."
(Continued on Next Page)
Prev Next
Vote on this Story by clicking on the Icon