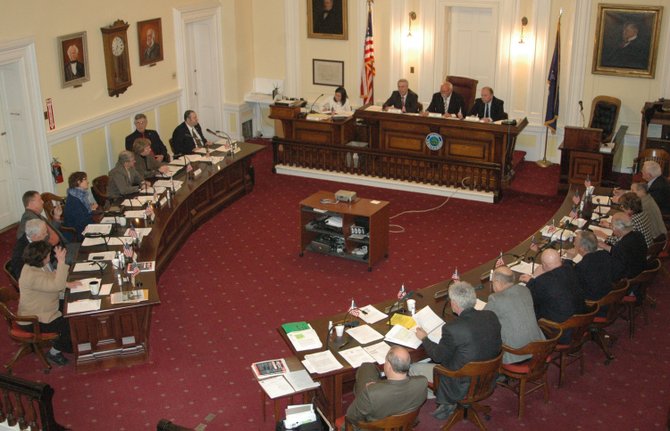 continued — Incumbent town clerk Diane Mason filed a Democratic petition to run for re-election, while Darlene Duffy filed a Democratic petition for assessor, incumbent Bruce McGinn a Republican petition for highway superintendent and Republican incumbent Effie McNally filed for tax collector.
In Westport, Democratic Supervisor Dan Connell will face a challenge from Republican James Carroll.
Also, Republican Tim Sherman will seek re-election to the town council along with Democrat Russell Paquette. Democrats Steven Viens and Gerald Goulet will join Paquette in a Sept. 10 primary, with the top two earning party favor in the Nov. 5 general election.
Current Westport Councilman Michael "Ike" Tyler has also filed a Republican petition seeking the post of town justice.
Ticonderoga Supervisor Debra Malaney filed a Republican petition for re-election and will face a Sept. 10 primary challenge from fellow Republican William Grinnell.
Three candidates filed petitions to sit on the Ti town council, including Democrat Fred Hunsdon and Republicans James Kolysko and Dorcey Crammond.
In North Hudson, former Supervisor Robert Dobie, who lost to current supervisor Ronald Moore in 2011, will again enter the political arena, this time running for one of two positions on the town council. Dobie, a Democrat, is joined by Republican incumbent Marshall Gero and Republican candidate John King.
Moore is one of two supervisors not up for election this year along with Chesterfield's Gerald Morrow. Each serve four-year terms.
The least active township on party petition day was Chesterfield, where only Clayton Barber filed a Republican petition seeking one of two contested town council seats.
For county elections, Republican Kristy Sprague filed the lone party petition for re-election as the District Attorney, while Francis Whitelaw filed a Republican petition for county coroner.
Other party petitions filed in town elections included:
Crown Point: Supervisor Charles Harrington (R-incumbent); town council Sherlene Simpson-Barrows (R) and Walter Worth (R); highway superintendent Eugene Ingleston (R-incumbent)
Vote on this Story by clicking on the Icon