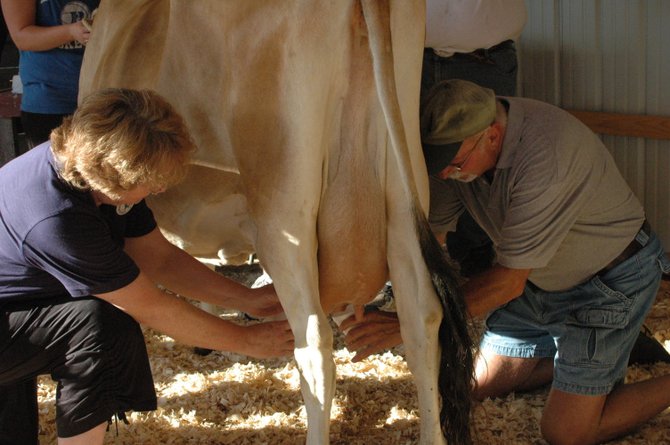 Westport — The Essex County Fair starts its 165th year of bringing agricultural heritage and fun July 31, with opening ceremonies set for 5:45 p.m.
Rides will open as soon as they are given the seal of approval by inspectors, sometime around noon.
Opening ceremonies will include the dedication of the fair and ribbon cutting ceremony, along with the milking contest between members of the Essex County Board of Supervisors. The "main event," will feature Dan Connell of Westport and Michael Marnell of Schroon. Marnell defeated Connell last year, and the Westport supervisor said he is eager for a rematch.
Admission is $10 per person, which includes parking and rides, this year presented by East Coast Midways.
For more information, visit the website essexcountyfair.org.
WEDNESDAY, JULY 31
Gordon Oil Day
Senior Citizen's Day
Senior Citizens Over 60 Receive a $2.00 off Food Coupon with $10 Admission
Daily


Baby Animal Barn


Animal Tales - 3 Shows Daily
Barnyard Cackle Review - 3 Shows Daily
Merriloons The Clown - 3 Shows Daily


4-H Demonstrations/Presentations


Floral Hall: Local Farmers' Displays
Serendipity Spinners - Demonstrations
Duffer Borden Fair Collection


Gerry Smith - Soil Survey - Check Your Soil

Sugar House - Adirondack Maple Producers


Cattle Barn - Stream Flow Demo

Cornell Cooperative Extension Programs
Master Gardeners on Duty
4-H Exhibits & Ice Cream Sales

Rain Garden Demonstrations

"Farmer for a Day" in Baby Animal Barn

Conservation Area: Wild Life Displays

Birds of Prey TBA


Blue Bird Information


Woodlot Management

Skidder Bridge Info



Master Forestry Assistance

Laser Shooting

Milking Parlor - Cow Milking Demo 4 PM

9:00 AM Essex County Fair Draft Horse and All Breed Driving Show


TBA Midway Opens (after inspections)


12:00 PM 4-H Dairy Cattle Show
4-H Beef Cattle Show follows


12:00 PM Harness Racing
Upstate New Yorkers perform between races


3:00 PM Master Hypnotist Michael Blaine Show
3:30 PM Sheep & Goat Show

5:00 PM 4-H Horse Show (Trail & Dressage classes)

5:30 PM Bicycle Giveaway in the New Cattle Show Ring


5:45 PM Opening Ceremonies in the New Cattle Show Ring

6:00 PM Cow Milking Contest in the New Cattle Show Ring with Town Supervisors


6:00 PM Dog Agility Demo in the Conservation Area

6:00 PM Street Legal Truck Pull


7:00 PM Master Hypnotist Michael Blaine Show


7:00 PM 4-H Dog Show (during dog agility demo break)
Vote on this Story by clicking on the Icon