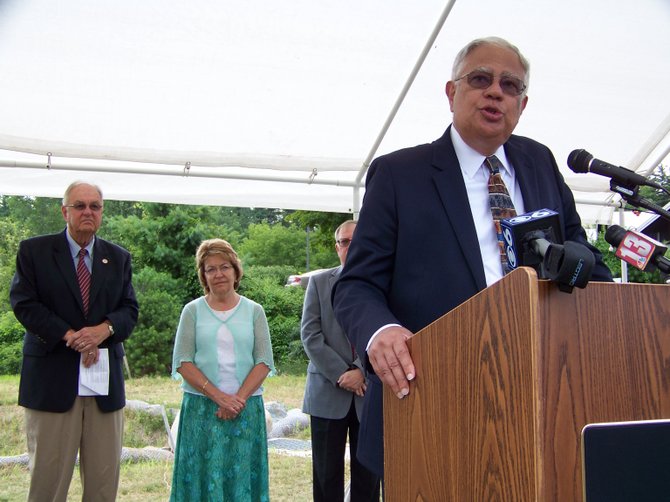 continued — "This may be a ceremonial event, but the implications are tremendous," he said.
Fund for Lake George Director Eric Siy also watched the ceremony.
"This is another big step towards lasting protection of the lake we love," he said. "It's also a clear example of collaboration at work."
State Assemblyman Dan Stec added similar thoughts.
"This project was about bringing people together, finding common ground and working toward solutions," he said.
State Sen. Betty Little, who Perales said was Gov. Cuomo's "favorite senator," praised the effort of curbing the stormwater pollution of southern Lake George, compounded by the construction of the I-87 Northway in the 1960s.
"The whole area economy is fueled by Lake George, and keeping the lake clean forever and ever is our goal," she said. "This is something future generations are going to benefit from."
Mayor Blais welcomed Perales and praised the role of the state Department of State for their $1.2 million investment in the park development project.
"The lake is our economic engine and it puts passion in our hearts," he said. "This is another important, great day for Lake George — and the entire region."
After a quick tour of the upper wetlands in the park, Perales was transported via trolley to Bolton Landing, where he reviewed Bolton's relatively new $1.1 million town pier, with nearby rain gardens and restrooms. The Department of State contributed $495,000 toward developing these facilities, Bolton Supervisor Ron Conover said.
"The pier put the 'Landing' back in 'Bolton Landing,'" he said, thanking Perales for his agency's investment.
Vote on this Story by clicking on the Icon