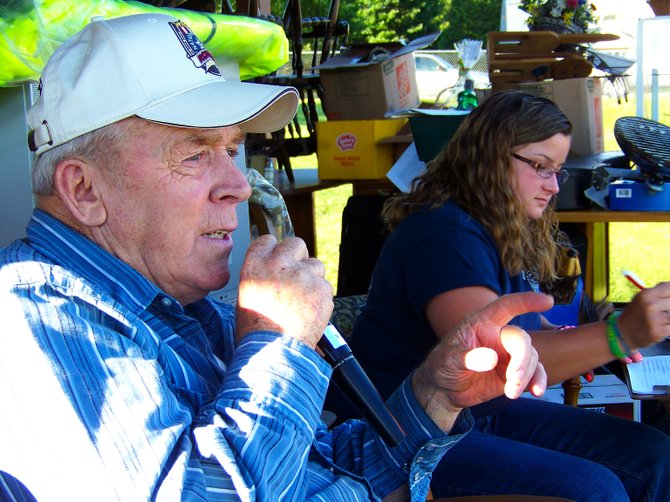 continued — "Hiram's the only person that could have ever pumped that bike up Horicon Hill full of newspapers — through snow — without standing up," Trapasso said.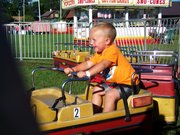 Barron Dingman, manager for Warrensburg Car Care body shop, bought the venerable bicycle. He remarked to firefighters he sought to restore it and hang it up on the shop's wall.
Other notable items up for bid were a windsurfing board and trailer, an exhaust pipe for a Ford F350 pickup, a television that had a hole punched into its case, a lightweight walker, a bait bucket, and a small chipper-shedder that might choke on twigs. One true treasure up for bid was undoubtedly a box of recipes — perhaps half a century's worth — from Hilda Perry of Summit St.
As Galusha started the bidding, he gazed over the crowd.
"Don't believe a word of what we tell you about this stuff," he warned the bidders. "You know the drill, if you're the high bid, you take it home and love it — as is!"
Bidders were generous as they vied for cat litter, bidding six bags up to $25, or for a well-used 25cc weed whacker, going for $125.
The public wasn't so generous with an decades-old electric organ console. Firefighter Matthew Oliver played a quick melody on the organ to try to entice bidders, but was unsuccessful, as it went for the opening bid of $5.
One of the highest bids was for a half-dozen pallets of architectural stone donated by Champlain Stone, bid up to nearly $800.
Saturday's edition of the Jamboree featured buoyant music by The AudioStars. The popular party band inspired dozens to crowd in front of the bandstand and dance for hours.
A fireworks show provided visual entertainment for no less than 25 minutes. The town's bicentennial this year was recognized in a ground display of fireworks — spelling "Happy 200th" set ablaze right before the grand finale of the aerial show.
Vote on this Story by clicking on the Icon