OAK HILL — Was it coincidence or fate that brought James King and the Gibson Brothers together July 19 at the Grey Fox Bluegrass Festival, sharing a stage and possibly a recording this coming winter?
These back-to-back International Bluegrass Music Association (IBMA) Emerging Artists of the Year — the James King Band in 1997 and the Gibson Brothers in 1998 — presented an evening workshop, "Our Favorite Songs," under the Creekside Stage tent after their afternoon sets on the High Meadow Stage. It was classic North meets South, with the Gibson Brothers hailing from New York and James King from Virginia.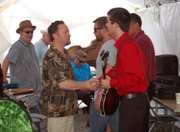 "I want to hear some of that wonderful brother harmony," King said on stage, standing with his guitar between Eric and Leigh Gibson. "Basically what you're witnessing tonight for the first time, and I hope not the last time, you're witnessing a Gibson Brothers-James King sandwich."
In all, King and the Gibson Brothers band – Eric and Leigh, Mike Barber on bass, Clayton Campbell on fiddle, and Jesse Brock on mandolin – played 10 of their favorite songs: "Why Don't You Tell Me So," "I Just Think I'll Go Away," "Dig a Hole in the Meadow," "Crazy Heart," "More and More," "In the Shadows of My Mind," "Love's Gonna Live Here Again," "Ring the Bell," "How Mountain Girls Can Love," and — for the encore — "Think of What You've Done."
"I've never done that song before," King said after playing "Dig a Hole in the Meadow." "I'm learning all kinds of new things ... Ain't it fun to pick with somebody you never picked with before?"
This may have been their first time on stage together, but it may not be the last.
"I suggest that me and the Gibson Brothers go in the studio and record a song this winter," King said. "It would be fun."
(Continued on Next Page)
Prev Next
Vote on this Story by clicking on the Icon