WARRENSBURG — Funeral services have been scheduled for Alfred "Jamie" Winslow who died in a house fire occurring the evening of Monday July 22.
Friends of Winslow may call from noon to 2 p.m. Saturday July 27 at M.B. Kilmer Funeral Home, 136 Main St., South Glens Falls. A memorial service will follow at 2 p.m. at the funeral home.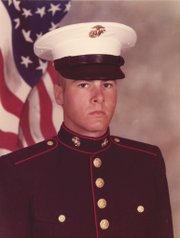 Shortly before 8 p.m. on Monday July 22, a fire was reported at Winslow's residence at 186 Rollie's Road in Warrensburg.
The one-story modular home was fully involved in flames when the first responders arrived, according to the Warren County Sheriff's Office.
A woman at the scene identified as Tammy Winslow told firefighters and police that she had exited the burning house, but her husband was still in the home, in his bedroom. She was uninjured.
Warrensburg Fire Chief Kevin Roth and sheriff's patrol officer Jay Fidd attempted to enter the burning home to locate the man, but were unable to because of heavy smoke and fire.
The body of Alfred J. Winslow, 51, was located inside the home later when the fire was extinguished.
Various fire companies responded to the scene assisting the Warrensburg Volunteer Fire Co. in battling the intense blaze. Warren County Cause and Origin investigators also responded. The fire remains under investigation.
Warren County Cause and Origin Investigators responded to the scene and are assisting the Warren County Sheriff's Department with the investigation.
Lt. Steve Stockdale of the Warren County Sheriff's Office confirmed that the fire is still under investigation, but says that it is not considered suspicious at this time.
"We may never know the actual cause," Stockdale said.
Winslow, he said, was a known smoker and an oxygen user. There was also a history of erratic behaviour from Winslow, but no indication at this time that this was a suicide he said.

"Based on our investigation, the area of origin was the bed," said Lt. Thomas Center, Cause and Origin Investigator for the City of Glens Falls. "We've been unable to clearly determine the exact cause of the fire. We're going to have to leave it undetermined at this time."
The fire, Stockdale said, is still under investigation.
Decades ago, Jamie Winslow, an electrician, had served four years in the U.S. Marine Corps.
Vote on this Story by clicking on the Icon