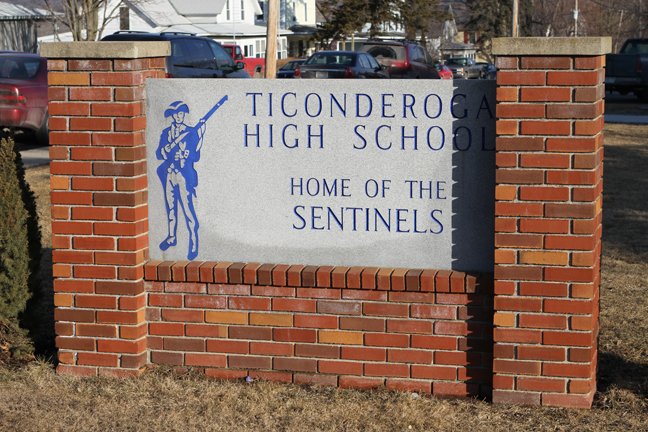 Ticonderoga — Students will notice an increased police presence in the Ticonderoga Central School District this fall.
Ticonderoga police have agreed to patrol the district's three schools — high school, middle school and elementary school — on a regular basis and will be at schools during morning arrival and afternoon dismissal beginning in September.
The action comes at the request of parents, who submitted petitions to the both the Ti school board and Ti town board seeking police in schools.
"The petition came after Sandy Hook," John McDonald, Ti school superintendent, said. "People were concerned about school safety, as they should be. I've discussed it with Ticonderoga police to see what we can do."
Sandy Hook, Conn., was the scene of the Dec. 14, 2012, elementary school shootings that killed 20 children and six adults. The incident is the second deadliest mass shooting by a single person in American history, after the 2007 Virginia Tech massacre.
The parent petition asked that a police officer be assigned to the school district and maintain a day-long presence. That's not possible, according to Ti PD Chief Mark Johns, because of funding.
With seven full-time officers and six part-time patrolmen, there are many times there is only one officer on duty, Johns said. Having that officer in a single location — a school — would leave the town without police coverage. It would cost $72,000 a year to add a school resource officer, he said.
McDonald and Johns have researched grants that could pay for a school police officer, but have not discovered one.
"I understand the value of having a school resource officer," Johns said, "but the current level of police department staffing doesn't allow for it. We just don't have the resources.
"A grant would be wonderful, but I'm not optimistic," he added. "Nationally there is $15 million allotted for school resource officers, which is way too little. That wouldn't even cover the state of Rhode Island."
(Continued on Next Page)
Prev Next
Vote on this Story by clicking on the Icon