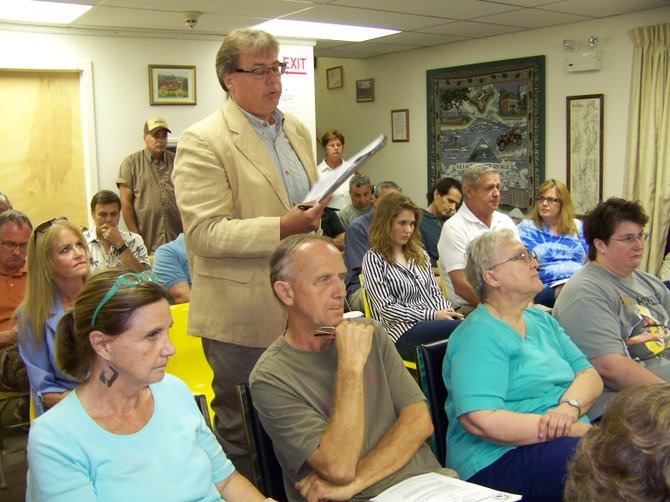 continued — "These zoning changes are one of the most significant in Lake George in the last 100 years," Macchio said.
Patricia Kirkpatrick, owner of buildings on Canada Street, had urged the board to vote in favor of the zoning changes.
"If Lake George doesn't take action to lengthen their season, the village will become old and stagnant," she said.
Lynn-Aire Motel owner John Kim, an in-law of Dave Kenny's, offered a similar thought. He noted that vacationers were increasingly drawn to upscale, modern hotels rather than independent cottages and motels.
"If we don't have change, everything is going to go under — like a mudslide," he said, noting that climate change was also a factor threatening year-round commerce by curbing winter recreation.
Lake George Town Board member Vinny Crocitto, owner of a local motel also expressed support.
"This is exactly the project envisioned in the comprehensive plan adopted by the town in 2002," he said of the Marriott project, adding that Kenny had a track record of following through on his plans in a responsible manner. "This zoning change will stimulate a lot of tax dollars, and the time is now to make the change."
Sue Millington, who owns a building just north of the Marriott site, said the recent sale of three Canada St. parcels to Kenny for $2.8 million provided proof that new development in the village would spur prosperity by boosting property values. She said she was "totally in favor" of allowing taller buildings, but she asked the board to hold off on the architectural standards, which promote design standards with a historic ambiance. She held up a rendering of a boxy reflective glass-panel building showing her design preference.
"Why can't we slow this down a couple of months," she said of the pending decision.
The design standards approved Monday include prohibiting certain lower-grade building materials, specifying building orientation on properties, The architectural requirements include allowing only earth-tone and historic colors, mandating that doorways be recessed, and that windows be appropriately spaced and sized, and that story heights are compatible with neighboring buildings. Long, flat, blank walls and rooflines are prohibited. The ordinance also calls for the use of dormers, parapets, stepped roofs, balconies, cornices, plus wall offsets and recesses to create visual appeal.
These mandates would apply only to new construction or substantial renovations.
Developer John Carr, owner of Adirondack Pub & Brewery, said that allowing taller buildings and calling for them to be situated right on the sidewalks created a streetscape that encouraged walking, showing, viewing of window displays — an experience that visitors desire.
"Keeping pedestrian traffic along Canada Street and keeping them comfortable is a key, key thing," he said.
Vote on this Story by clicking on the Icon