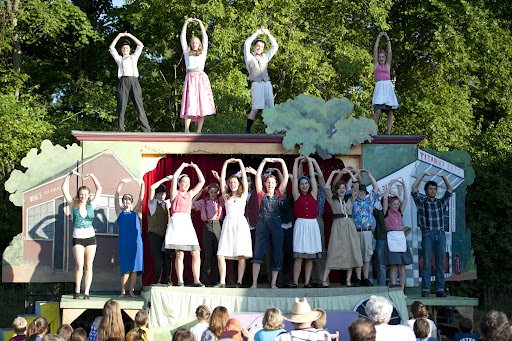 Ticonderoga — Musical theatre is coming to Ticonderoga.
The Very Merry Players will present Cole Porter's "Anything Goes" Tuesday, July 30, at 3 p.m. on the lawn of the Hancock House. The production, which is free to the public, is sponsored by the Ticonderoga Historical Society. In the event of rain it will be held at the Knights of Columbus pavilion.
"This is a shining example of classic musical theatre," Don Wright, the Very Merry Theatre's executive director, said. "The story concerns wacky antics aboard an ocean liner bound from New York to London. There are amazing tap-numbers, zany jokes, unlikely happy endings and not to be forgotten songs that will keep you humming for days. It is a fast-paced, farcical and kid-friendly performance for children from eight to 80."
The Very Merry Players is a group of 25 teens who aim to advance children's literacy through the performance of classic books.
June Curtis of the historical society said local high school students have been invited to the program.
"I've invited the Ticonderoga High School's drama club, the Sentinel Productions, to co-sponsor this event with us", she said. "It should be fun for the students to see this peer group production. Amy Crannell, the club adviser, will join us with as many of the drama students as are available."
Wright said his performers are anxious to meet their Ticonderoga counterparts.
"We'd love to meet your high school kids and share experiences," he said. "If they'd like to come early and see how and perhaps help set up our wagon stage, that would be great."
The play is part of the "Ticonderoga Area Summer." The "summer" is a collection of events and programs that includes activities for both children and adults, from fireworks and carnivals, to art classes and programs, concerts and theatrical performances, historical events and more.
(Continued on Next Page)
Prev Next
Vote on this Story by clicking on the Icon