WARRENSBURG —  A leading journalist of the southern Adirondacks will soon be loading his motorcycle into the back of his pickup truck, tossing in a couple of suitcases —and leaving his hometown of Warrensburg behind, heading for Idaho.
And it won't be to write a travelogue.
Jon Alexander of Warrensburg — who launched his news-reporting career with Denton Publications — is moving to Twin Falls, Idaho to become the editorial writer and Editor of Community Engagement of the Twin Falls Times-News.
Alexander started off as a reporter for the Adirondack Journal in 2008, and in 2009 served as Editor of the North Creek News Enterprise. Later that year, he was named Assistant News Director of radio station WNBZ of Saranac Lake. Since 2011, he's been a high-profile reporter for the Post-Star in Glens Falls, primarily covering governmental affairs and breaking news. For most of his journalism career, he's also reported for North Country Public Radio, based in Canton.
Alexander's last day at the Post-Star is Aug. 3, and on Aug. 19 he starts in his new position, writing editorials and creating the opinion pages for the Times-News. Both newspapers are owned by Lee Enterprises.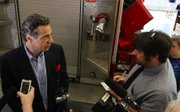 Alexander is well-known for his articles, many of which have explored the quirky elements of human behavior underlying political activities and processes.
Alexander credits his studies in anthropology, which he said has offered him insights into the parallels between primate behavior and political dynamics.
"While our closest primate relatives form alliances by killing and sharing the meat, humans are good at forming committees," he said. "I like to look at the actions of legislative bodies through an evolutionary perspective."
One of Alexander's top achievements was his report on how Gov. Andrew Cuomo was clamping down on public access to information in his adminstration, and the fears and resentments it sparked. The article prompted a response from the Cuomo administration, and some observers say the Governor has since backed off on the approach.
(Continued on Next Page)
Prev Next
Vote on this Story by clicking on the Icon