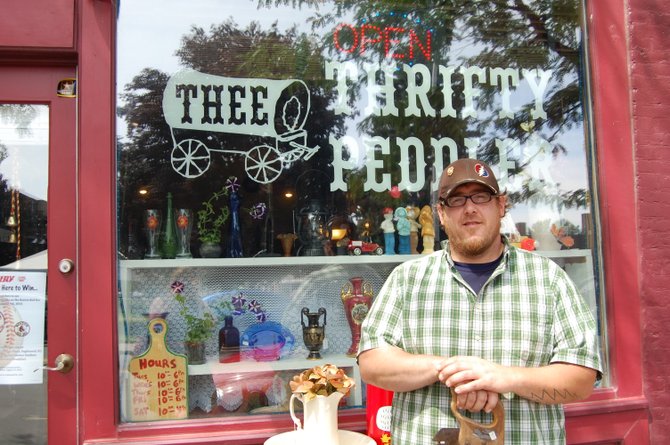 Plattsburgh — Combining a love for researching old machinery and getting great deals, Scott Cross has made a business being the "Thrifty Peddler."
"I've always been a collector and a picker, there comes a point you can't keep everything you find," Cross said.
Cross's store, called Thee Thrifty Peddler, is located at 18 Brinkerhoff Street and has been open for 6 months but Cross said the business of locating hidden treasures has been in his blood long before opening the store.
"I've always loved picking and finding things using my metal detector," Scott said. "My mother had her own shop before me and when she started having hip problems I decided I should keep the picking and antiquing business going."
Cross calls the store both a "catch all of local treasures" and a "shop of randomness."
Cross finds items for his store at local garage sales, estate auctions, from local individuals and by going out and exploring local trails and former battlegrounds with his metal detector.
The store is packed with random items including vintage buttons, boxes of matches from the 1920's, silverware, plate sets, serving trays, children's toys, vinyl records, video games, art work, antique fishing equipment, farming equipment, mining tools, furniture and the list goes on and on.
"We have items in this store you won't find anywhere else and unlike eBay you know these items come either right from Plattsburgh or from people in the area," Cross said.
Cross said he is constantly switching out items to make sure there is always something new to see. Most sought after items are the collectibles and random vintage pieces.
"We try to bring in a lot of variety in our collectibles. The most exciting things to some people aren't the same for other people and we love to see our customers excited to add to their collections when they find something here," Cross said. "Collectors are truly dedicated and you just never know, what doesn't have value to one person can be extremely valuable to another person."
(Continued on Next Page)
Prev Next
Vote on this Story by clicking on the Icon