Photo Gallery
Free Advice Nights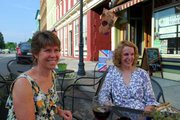 The sun is finally shining and there are lively crowds at Free Advice Nights in downtown Plattsburgh. Many friends, old and new, continue to stop by for great conversation and to get, give, and share advice. Conversation has inspired many genuine connections and authentic conversations bring to life many creative and fun ideas.
CHASE PELLERIN, an up and coming media talent and recent St. Michael's graduate, captured many lively moments on film. Look for our free advice blog in the near future.
DEENA MCCULLOUGH shared her thoughts on creating a special and sacred garden space. She has built a Fairy Garden with a fanciful tree house at the heart - beautiful plants and inspirational thoughts surround the space. A reminder that great beauty is found in the small details.
ANNETTE OSBORNE stopped by The Champlain Wine Company to share a taste of the North Country with her cousin JOE and his partner JOHN. They were visiting from New Jersey (the Jersey boys) and fell in love with our small town. Joe and John observed friendly people, natural beauty, and a vibrant and growing arts scene.
ANNA MEISENHEIMER of Salt Lake City and JARED PELLERIN of Boston shared thoughts on young professional life and making grad school/career decisions. Both believe that getting out there to see what you like and dislike is the best way to make your own personal career path. MEG LEFEVRE, fellow journalist and all around great gal, shared her thoughts on meshing art, performance and writing in building her career in the North Country. All agreed that in the 21st Century marketplace, one needs to be creative in forging a career path; their advice, do not take a job, make a job, and then make it your own.
DEVI MOMOT, PAUL FUHRMEISTER, and DAWN TERRICK from Twin State are three committed visionaries, actively bringing Vision2Action to life. They are committed to promoting a revitalized downtown Plattsburgh. While Twin State is not located in downtown Plattsburgh, all three know that a thriving downtown promotes a thriving North Country.
(Continued on Next Page)
Prev Next
Vote on this Story by clicking on the Icon