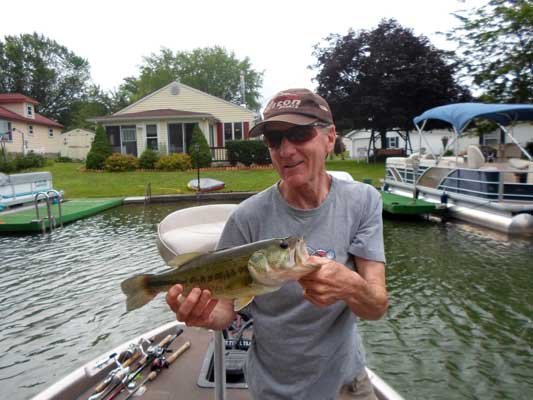 This past week I was on another mission; a working vacation combined with fishing, of course. My working aspect was doing wildlife habitat work. My fishing trip was for bass; smallmouth and largemouth.
This time I was down in northern Allegany county cutting trees in a small town named Short Tract. When my sister Suzy was diagnosed with lung cancer they held an auction to raise money for finding the cause and cure for cancer. I donated a wildlife management plan to the auction. Good friends, Johnny and Carol Beitz bid on it, and won the wildlife management plan for their hunting property. I completed the wildlife plan two years ago, and now I go down once a year to fell trees on the property, creating openings for food plots and early successional growth. I also cut trees down to allow sunlight to reach the apple trees that are straining to get sunlight.
Johnny has been following the guidelines outlined in the plan and the results are showing. In just one year there has been a remarkable change in the amount of apples that are growing. Last year there were trees with no apples due to the shade. This year with the rain and life giving sunlight reaching the trees, there are apples galore! We cleared an area where brassicas will be planted, providing energy to deer this fall. A nice little buffet table is being created for both grouse and deer. Apples, grasses, clovers and brassicas will supply minerals, carbohydrate energy and protein to the deer for growth and weight gain to get through the winter. The food and food plots will keep deer near his property long enough so he can bow hunt this fall. Winter will be arriving faster than we think.
It's all coming together for Johnny and his hunting property. Last year he was a bit hesitant about cutting trees. He is now a true believer in wildlife management and allowing the sun to do the work! After dropping about forty trees, I was done for the day. Johnny now has his work cut out for him pulling brush and tops to create designated movement areas for deer. He also will be getting some exercise cutting the red maple up for firewood. This fall should be a good hunting season for my friend and his property.
Rich Redman is a retired District Conservationist for the USDA Natural Resources Conservation Service and an avid outdoorsman. His column will appear regularly. He may be reached at rangeric@nycap.rr.com.
(Continued on Next Page)
Prev Next
Vote on this Story by clicking on the Icon