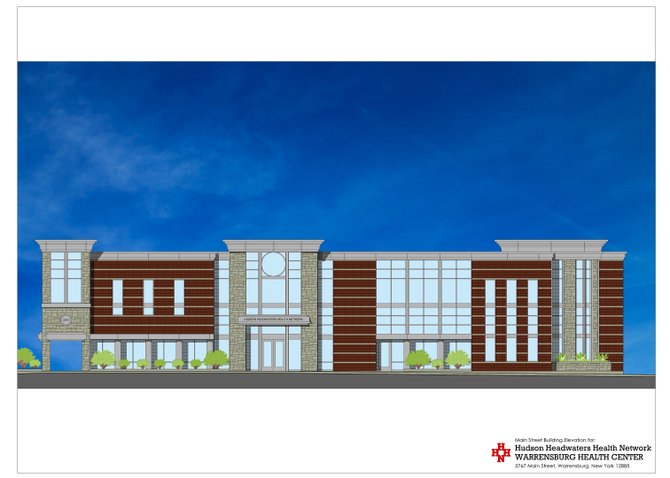 WARRENSBURG — About year after Hudson Headwaters Health Network secured a $5 million federal grant to build a new health center in Warrensburg, the organization's foundation has launched a capital campaign to raise an additional $1.9 million to complete the project.

The new health center is not only envisioned to serve as an architectural landmark in Warrensburg, but it is also anticipated to boost Hudson Headwater's regional services. With about double the floorspace, the new facility will accommodate additional equipment and health-care services as well as boost comfort and convenience for patients, consultants have said.
The new center is surely to be a source of considerable pride, as Hudson Headwaters in 1981 situated their first regional facility in downtown Warrensburg, and the chain has now grown to 14 health centers meeting the health-care needs of 60,000 people spread over 3,700 square miles spread out over four counties.
The Warrensburg Health Center has been a key facility in this wide region, and is to become even more vital after its expansion, HHHN founder and CEO Dr. John Rugge said.
"We're asking local foundations, businesses and friends to help us raise the funds needed to put up a state-of-the-art health care facility that will provide services to 25,000 people living in 12 Adirondack communities," he said, observing that the Warrensburg Health Center receives 55,000 patient visits each year, with more than 70 percent of the people coming from outside Warrensburg. "It's truly a regional resource."
The current health center is a 50-year-old cinder-block structure that was once a grocery store, and it is increasingly inadequate to meet the health care needs of the region, Rugge said.
"The Warrensburg Health Center supports our Adirondack health centers by providing urgent care seven days a week and six evenings," he said. "It also offers health care services not available at our other locations including specialty care, lab services and imaging."
(Continued on Next Page)
Prev Next
Vote on this Story by clicking on the Icon