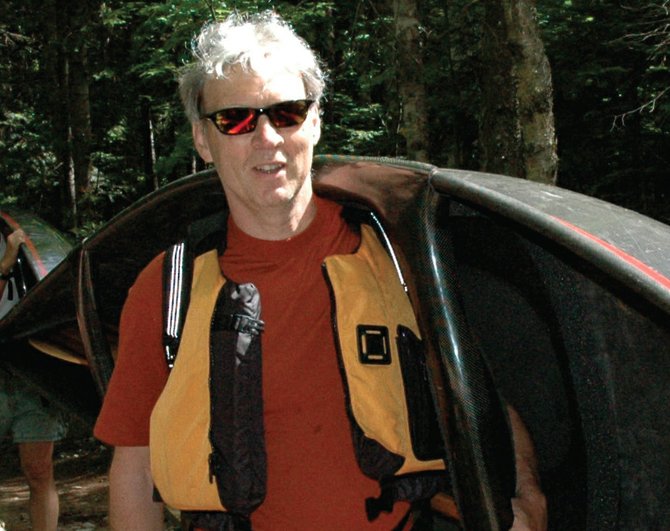 continued — •And there's the full support of the co-publisher, the Adirondack Mountain Club (ADK), which is the leading publisher of outdoor resource guides in the Adirondack Park.
One aspect of "Adirondack Paddling" that sets it apart from other guidebooks is the storytelling. Brown doesn't just dive into the facts; he sets up each paddle with an introduction that sums up the trip and puts it in context with the paddlers' experience, other recreational possibilities in the Park, and the degree of wildness and solitude one can find there.
"For many people, pond-hopping in the St. Regis Canoe Area under sunny skies represents the summum bonum of Adirondack paddling," Brown writes in the Long Pond to Hoel Pond section. "Each pond on the day's itinerary is a new adventure. Each has its own personality. Each is an invitation to experience nature (including loons) up close, undisturbed by motorboats. But paddling is not the only way to see the Canoe Area ..."
Brown organizes trips in "Adirondack Paddling" by creating four regions of the Adirondack Park: Northeast, which includes trips around Newcomb, the Tri-Lakes and Lake Champlain; Northwest, which includes trips such as Lake Lila, the Oswegatchie River and Madawaska Flow; the Southwest, which includes trips such as East Canada Creek, Blue Mountain Lake to Raquette Lake and Browns Tract Inlet; and the Southeast, which includes trips such as the Upper Schroon River, Lower Hudson River and Kunjamik River.
If there's one criticism, it's the lack of paddling trips in the Southeast region. To only have six trips in such a huge chunk of the Adirondack Park makes it seems like there are very few places to paddle there, which can't be true, can it? Yet to whittle the endless opportunities down to 60 great paddling trips for a park the size of Vermont, choices have to be made, and Brown made 60 excellent choices. Maybe the Southeast could be better represented in later books.
Vote on this Story by clicking on the Icon