Saranac Lake — Phil Brown's a busy guy. Not only does he work a day job as editor of the Adirondack Explorer newsmagazine and publish interesting books in his spare time, he's usually found somewhere in the Adirondack Park paddling, hiking or rock climbing in familiar and unfamiliar territory.
Perhaps this is one reason why outdoor enthusiasts will find his newest book, "Adirondack Paddling: 60 Great Flatwater Adventures," such a useful resource. When reading the book, we know Brown isn't just sending us to far-off corners of the Adirondack Forest Preserve without due diligence; he's paddled these trips and swapped notes with Adirondack Daily Enterprise outdoor writer Mike Lynch, who also explored the 60 great flatwater adventures.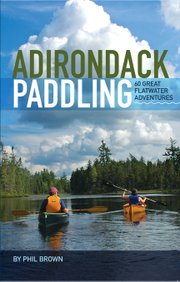 Brown speaks from experience. This is the guy who won a paddling rights court case earlier this year against the Friends of Thayer Lake and the Brandreth Park Association. He paddled from Little Tupper Lake to Lake Lila — including Mud Pond, Mud Pond Outlet and a portion of Shingle Shanty Brook — which were posted. Accused of trespassing, Brown asserted the public deserved to paddle these routes. And the judge agreed, saying that the route is "navigable in fact" and ordered that the posted signs along the waterways be taken down.
Brown — as an advocate for paddlers and for all who have the right to enjoy the Adirondack Forest Preserve and its navigable waterways — writes "Adirondack Paddling" with authority. And he's backed by a well-established team of environmental educators, journalists and outdoor professionals.
•There are breathtaking photos by Brown and other notable Adirondack photographers, such as Carl Heilman II, Mark Bowie, Mike Lynch, Nancie Battaglia, Susan Bibeau and Nancy Ford.
•There are more than a dozen photos of birds found along the waterways taken by noted wildlife photographer Larry Master.
•There are useful maps by Saranac Lake artist Matt Paul.
(Continued on Next Page)
Prev Next
Vote on this Story by clicking on the Icon